↓ introductory Video.
"…stunning reinterpretation of a calendar is a masterful example of how a designer can completely flip a genre signifier on its head. Geisler reimagines calendars in order to change the way we visualize time, and in turn, redefines what it means to save the date."
Mike McGregor, Kickstarter, NYC
"…one-of-a-kind…"
Armin Vit, Quipsologies (former Speak Up) Vol.47 No.60, Austin TX
"…der minutiöse Wahnsinn, …(der) eher an J. Johns oder einen sehr disziplinierten J. Pollock erinnert als an deinen normalen Wandkalender." 

Hans Schumacher, slanted.de / projektgrafik.de, Berlin
"DuMont Tipp – Ein besonderes Kalenderprojekt"
DuMont Kalenderverlag, dumontkalender.de, Cologne
"Creative of the week" 

Gerrie Smits, The RAAKonteur
#20, London
"…staggering image…" 

Erik Brandt, geotypografika.com, Minneapolis
"It's a completely unique project, and both an expensive and huge undertaking…"

Jamie Homer, flush-left.co.uk, UK
"…thought intrigued…" 

Idealog Weekly,idealog.co.nz, New Zealand
"…ambitiøse…" 

Thomas Arendt, blog.makeyourmark.dk, Denmark

"…perfekte Tastenkombination für das kommende Jahr." 

Publique, itspublique.de, Germany
"…amazing…" 

Andrew Dobrow, Geektoplasm
"…unique DIY…" 

Abby Jenkins, Apartment Tharapy Unpluggd, US
"…This is calendar ART. This is art that is a CALENDAR…" 

km, Clerk & unwell, Chicago
"…VIDEO DES TAGES: 2011 Typographic Wall Calendar…ein völlig einzigartiges Projekt." 

Carina Czisch, Grafiker.de, Berlin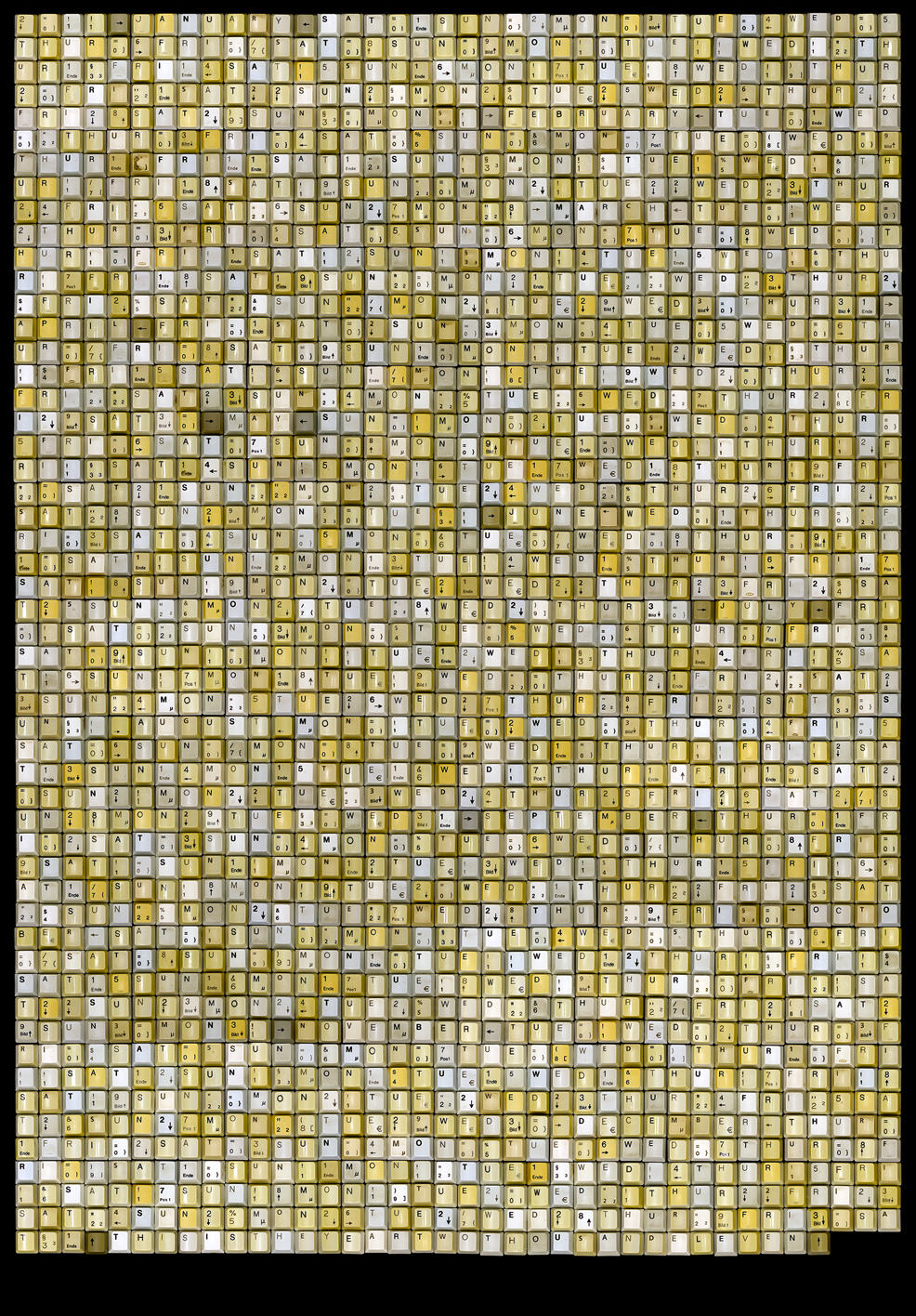 The Typographic Wall Calendar is about the act of notating time.
Representing the year written out in 2011 Keyboard Keys, it measures 100 x 70cm (27.56" x 39.37").
In the PDF you'll find hi-res Images of the 2010 and 2011 version, along with an Interview by Michael McGregor (Kickstarter, NYC) and a text about the cultural relational background of calendars.
The "2011 Typographic Wall Calendar" is a continuation of the 2010 "prototype".
The print costs of the 2011 version were raised through a Kickstarter Project.

The "2011 Typographic Wall Calendar" is available online →https://haraldgeisler.com/order-prints/
and in these stores:
Berlin:
do you read me?
Magazine und Lektüre der Gegenwart, Auguststrasse 28, Berlin-Mitte
Open: Mon- Sat 10 –19.30h
Frankfurt am Main:
Buchhandlung Walter König
Hasengasse 5-7 (next to Kleinmarkthalle), Frankfurt am Main
Open: Mon-Fri 10-19h, Sat 10-18h
Souvenir Frankfurt
Kaiser Passage 29 – Kaiserstrasse 62-64, Frankfurt am Main
Closed: Monday
Open: Tue – Fri 10-20h, Sat 10:30 – 16:30


Making of Pictures: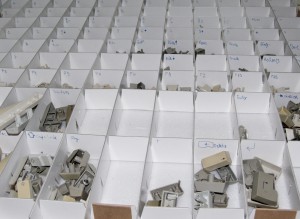 Sorting Keys ↑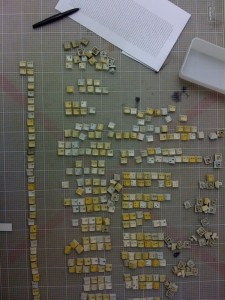 Arranging ↑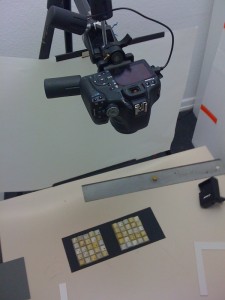 Photographing ↑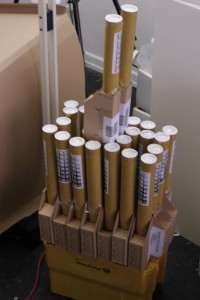 Shipping ↑