Martin Luther King Font Update #24
December 2021
Dr. King in East Berlin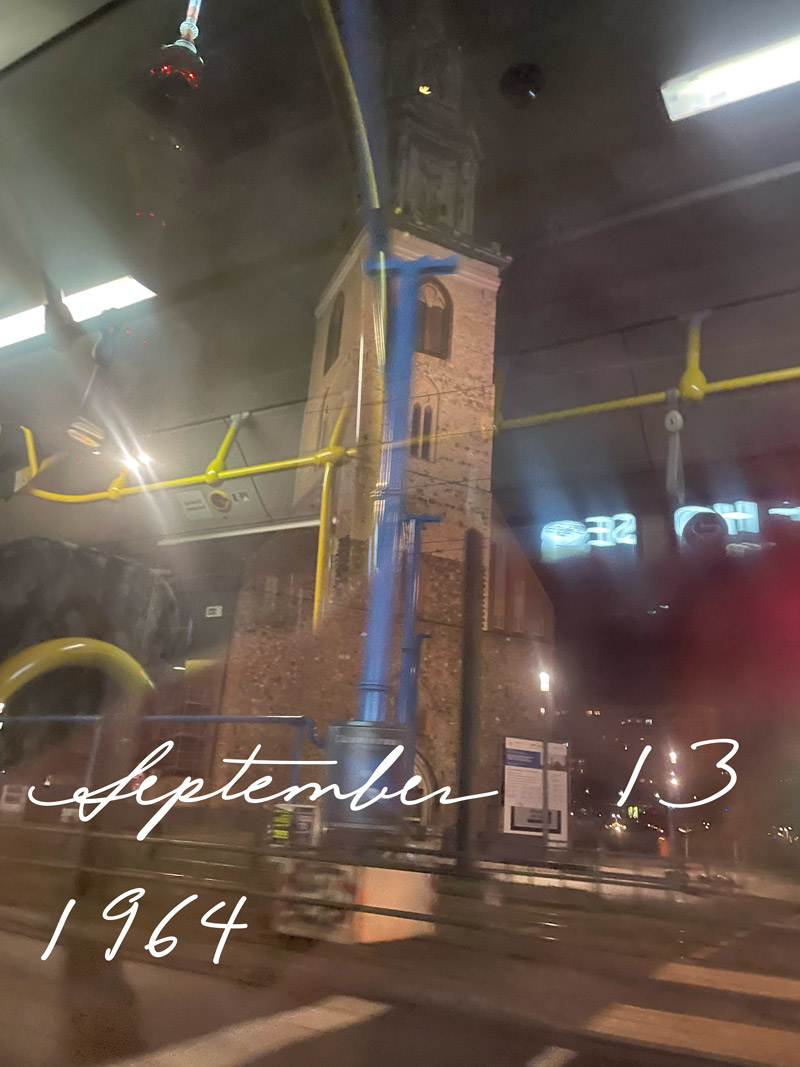 Dear reader reader,
You downloaded the Martin Luther King handwriting font, and I wanted to let you know that an updated version is ready for you to download from your account: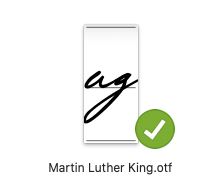 The new version will show up in your font menu as "Martin Luther King 2021 December". I recommend uninstalling older versions to keep your font menu organized. The next update will arrive in early January 2022.
Let's talk fonts.
This update adds three new letterforms, lowercase final-letter y and w, and an isolated letter form a. Further, the altering mechanism in the font is completely updated.


The alphabet has uppercase and lowercase letters, but when looking at handwriting, one can notice that lowercase letters are drawn differently at the middle, beginning, or end of a word. In English, isolated letterforms appear for "I" and "a" and are drawn differently from a standard form connecting to other letters.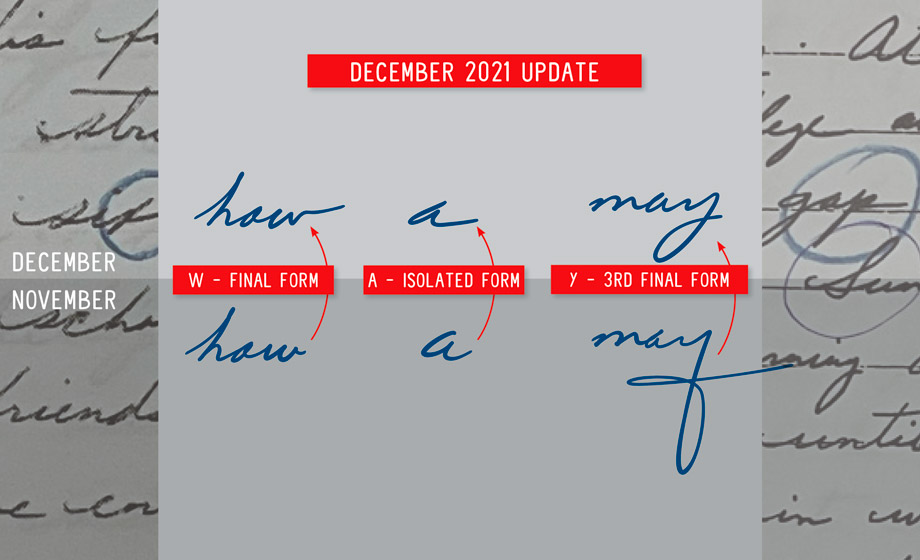 Dr. King's handwriting shows that these initial and final forms are significant. To me, it even seems that there is a kind of joy in the swashes and intricate forms we find at the beginning and end of his handwritten words. It is important to me to bring these forms into the font. Then, as you type, the font automatically chooses the right letterform for you.


Especially the lowercase y at the end of a word stuck out to me. And going through Dr. King's manuscript, I noticed many different y's at the end of a word. The font already has two final y forms, but I found they stand out too much because of their extravagant shape.

I added a third form to solve this problem. This would be a bit more in tune with the regular letters. Then I changed the altering mechanism of the font entirely from the ground up to make this more common form appear more often. The altering mechanism is set to display the new shape 50% of the time.


These changes may seem small, but it enriches the reading experience with variety. And I find this kind of complexity is very pleasing for the eye.
If this is not working on your computer, look at the tutorial from →Update #16 on activating Initial and Final Forms, it might help.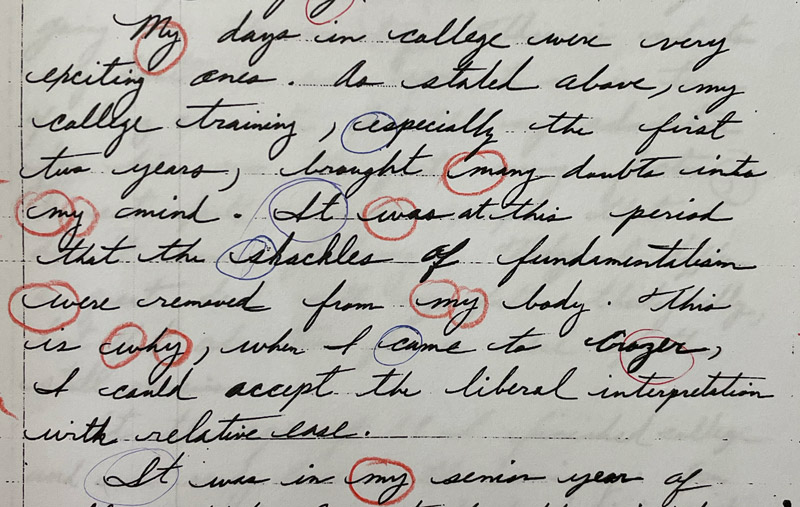 Here you see an overview of the letters that are included with this update, you can find the spreadsheet ➞ here: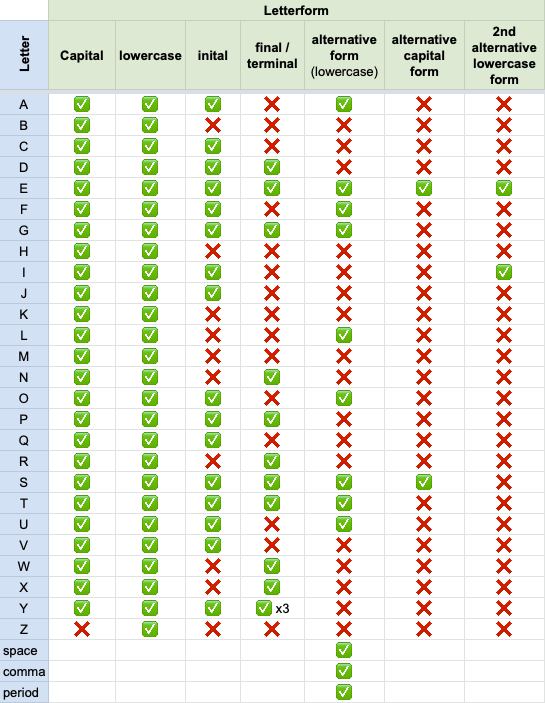 Dr. King in East Berlin
Early last week, I visited Berlin for a workshop and catch up with some friends and colleagues. I was not thinking about the Martin Luther King font at all. One evening after midnight, I left a colleague's place in Berlin Mitte, and because of construction work, no train was going, but instead a replacement bus.


Taking the bus and having a few calm minutes to myself, I started to think about the font project and that it began in 2014 listening to a recording of a speech Dr. King gave in a church in Berlin. (You can listen to an excerpt of Dr. King's speech in the

project description.

)


I remembered the name Marienkirche, but I had no idea where it was. So sitting on the bus, I took out my phone and searched Marienkirche. The answer came promptly "58 meters to your left". On the driving bus, I turned to my left, opened the phone's camera, and took this picture: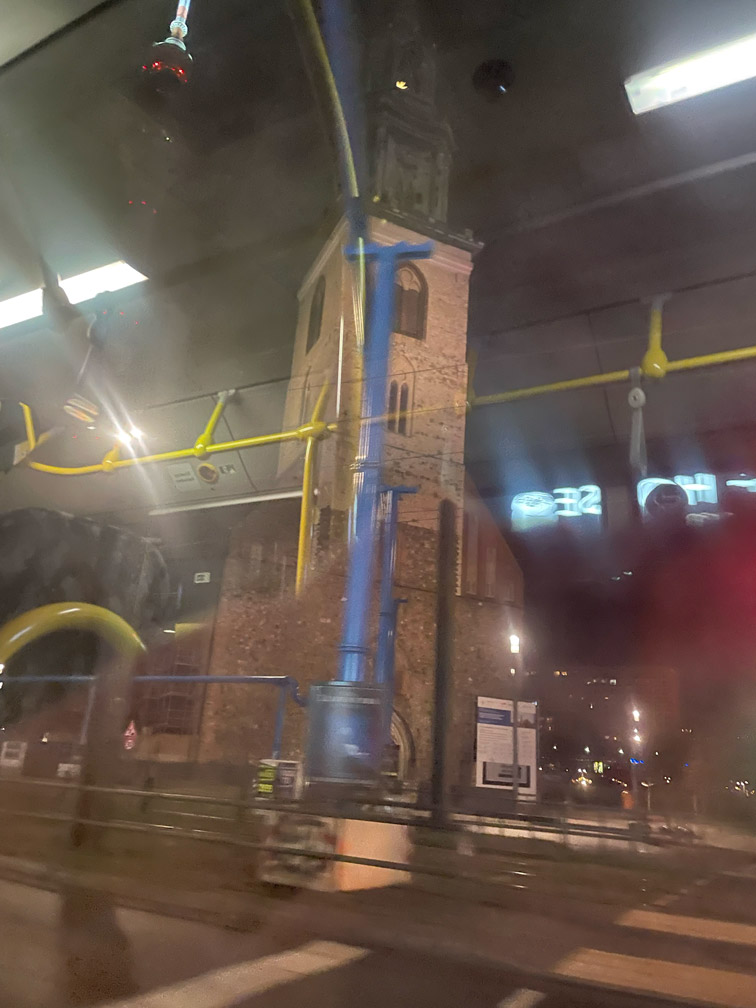 What a coincidence, right? I rescheduled the next day to have time to visit the church and take some pictures that I wanted to share with you, together with the update of the font.
Here is a little background to Dr. King's visit to Berlin in 1964: The city is split into East and West Berlin. West Berlin is surrounded by East Germany and occupied by the Western Allies of the Second World War. When King landed, the rumor says the American embassy wanted to prevent him from entering East Berlin and cause unforeseeable trouble and took King's passport off him. Without a passport, it was impossible to enter East Germany. However, the legend says that Dr. King used his American Express card to identify himself, which is unusual when entering a communistic country. The East German Border officer probably recognized the famous visitor and accepted a credit card for official identification.
Who invited Dr. King to go to East Berlin?
Two people invited King to come to Berlin. First, Willy Brandt, the then-mayor of West Berlin and later chancellor of Germany (1969-74), invited King around 1961 in New York. Further, Dr. King was in contact with Pastor Heinrich Grüber, who invited him to talk at Marienkirche. Grüber was known for helping the Jewish community under Hitler by organizing faked passports to cross the border; his activities led to detention in concentration camps Dachau and Sachsenhausen. Now despite his fame and position as a pastor at prominent Marienkirche, East Germany withdrew his citizenship in 1961. He was no longer able to cross the border within the city to serve his community in the eastern part. So Grüber was able to welcome King in West Berlin but couldn't accompany him to a sermon in his church. One can only imagine what these two activists talked about in person and their letter exchange.
What was the situation at Marienkirche on September 13, 1964?
As I understand the situation, the church had three pastors. One was Grüber, whom I talked about earlier. Then there was pastor Arnold, who just got into jail for assisting citizens with leaving the Eastern part of the city through trunks of Diplomat cars. The third pastor Fritz Führ died of a heart attack in late 1963 after moving to West Berlin. Newly elected church official Gerhard Schmitt decided to take the job of welcoming Dr. King at Marienkirche. One can only imagine the community's feelings, hopes, and thoughts at Marienkirche at that time.
In general, I think neither the East nor West Berlin officials knew how to frame Dr. King and therefore saw no benefits in him visiting, or maybe more possible negative than positive outcomes. Around 3000 people showed up at Marienkirche, not all of them fit into the place, and a second speech was held later that night at neighboring Sophienkirche. It was not allowed to advertise Dr. King's planned speech, but the community around Marienkirche probably spread word mouth to mouth.




In the end, we also have a TV recording of the event at Sophienkirche. I assume that TV recordings had to be made by state media; it is difficult to say who knew what and when and who collaborated with whom in hindsight.
Back to the Marienkirche today.
Today as back then, you'd exit Alexander Platz. The image shows the view when leaving the subway system. Berlin is not a city with one center. Instead, a couple of villages with individual centers "glued" together. Berlin Alexander Platz is one of the famous places. Just now, I remember that it is also the title of a famous German Novel by Döblin, which all high school students have to read. I can not recommend the book; it was boring.
However, the Marienkirche is located next to Alexander Platz; back in 1964, the surroundings looked like this:
Today it looks like this:
And from the main entrance, you almost overlook the building that stands right behind it - Berlins TV tower.


Of course, it is a massive statement of the communistic government in 1969 to build the city's highest building with a revolving restaurant 207 meters high, representing technological advancement right in the backyard of a church that has been protestant since 1539. Before 1539 the church was catholic.
Entering the church was easy because it was open:
After going around inside for a while, I started wondering where Dr. King gave his speech. I reached out to an older lady from the gift shop. Although there were no Martin Luther King memorabilia for purchase, she was willing to give me a little lecture on the events from 1964 and how things probably took place.
She told me that the usual entry is blocked because of the construction work. So back then, one would probably enter the church here:
And probably Dr. King spoke from this historic pulpit.
And indeed, at the last minute before sending this email, I found this image on the net:
The conversation with the lady from the gift shop then turned to the architectural qualities of the pulpit and what a magnificent piece of art it is. Stirring the conversation back to King, I asked if there were any other sources where I could find information, and she kindly directed me to a poster that hung right at the entry of the building.




Unluckily, a construction fence blocked the poster, but
one could find some information there.




For me, this unexpected excursion was fascinating because the more exact I tried to find things out, the more I realized that history is, to some extent, a story we tell. And the further away one gets from the events, the more and more stories are added rather than facts. A situation that reminds me of moments in other handwriting projects too.




Anyhow, I hope you enjoyed this little excursion; please enjoy the font.
A big "Thank you."
to everybody who supported the creation of the font this month. This update is possible because of the financial support of 19 people from around the world. I want to take some space to thank them:
J. Harris, Montgomery, Al 🇺🇸
J. Horton, North Turramurra, NSW 🇦🇺

N. Renner, New Britain, CT 🇺🇸

R. Wampler, Colorado Springs, CO 🇺🇸

K. Tilley, Linthicum Heights, MD 🇺🇸

C. Smith, Nedlands, WA 🇦🇺

P. Herman, Bonsall, CA 🇺🇸

F. Chaplais, Ile de France 🇫🇷

J. Holze, Magdeburg, Saxony-Anhalt 🇩🇪

N. Wilson, Broken Arrow, OK 🇺🇸
T. Zwitserlood, Amsterdam, NH 🇳🇱

J. Wilson, Nashville, TN 🇺🇸

F. Engerer, Nürnberg, Bavaria 🇩🇪

H. Billetter, Kerpen, North Rhine-Westphalia 🇩🇪
How can you support the Martin Luther King font?
This project is very dear to me; I hope you enjoy the font. Without support, this project would not be possible! The more people support the project, the more time I can spend working on the font.


1. Donate regularly to the font.
I will add one additional letter for each 100€ ($110, £90) donated monthly, and sometimes I add some more. reader reader if you want to support: please donate monthly. The continuity will help me and the rhythm of the project. You can find a detailed report on the received donations →here.


2. Spread the word.
Do you have a colleague or friend that might be interested in this? Maybe a high school teacher or student working on Dr. King. Please share this email or link to the project site: https://haraldgeisler.com/martin-luther-king-font with friends, family, and colleagues you think would be interested in the font?
If you have any questions about this project, reply to this email. I am happy to help.


Enjoy the font and stay tuned for more updates,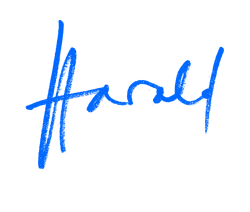 Do you have questions about fonts and how to use them?
I have prepared a → helpful font guide that will guide you through the necessary steps of installing a font on different devices. If your question is not covered in the PDF, reply to this email. I am happy to help.
Lost Password?
Update History:
Update #24

: 9. December 2021.

This update adds three new letterforms, lowercase final-letter y and w, and an isolated letter form a. Further, the altering mechanism in the font is completely updated.
Update #23
: 25. October 2021. This update adds two new letterforms, lowercase final-letter p, and x.
Update #22:
28. August 2021.
This update adds two new letterforms, lowercase inital letter q and an alternative i.
Update #21: 28. August 2021. This update adds two new letterforms lowercase final form d and r.
Update #20: 7. August 2021. This update adds 3 new letterforms,
lowercase initial letters e, g, and u.
Update #19: 30. June 2021. This update adds five new letterforms, lowercase l (version 2), and initial letters a, c, o, and s.


Update #18: 1. June 2021.

This update adds two new letterforms, lowercase o (version 2) and u (version 2).
Update #17: 12. May 2021.
This update adds two new final letterforms, lowercase g and y, and an alternate version of the initial lowercase i. Further, the update fixes (4) the size of the new numbers that shipped with the April Update. And finally, I have added a new PDF to showcase the font.
Update #16: 30. March 2021. Added numbers: 6, 7, 8, 9, 0, 0 (version 2) and semicolon.
Update #15: 28. February 2021: Added Numbers: 1,2,3,4,5
Update #14: 9. January 2021:

Added the letters: ă â à ā ą å ã ć č ç ě ê ė è ē ẽ ḡ î ï ì ī į ĩ ĺ ł ń ň ñ ô ò ő ō õ ŕ ř ś š ţ û ù ű ų ů ũ ŵ ẁ ŷ ỳ ỹ ź ž ż as well as the dollar sign and an alternative comma.
Update #13 Added 29. December 2020: capital letter X, parenthesis left and right (), improvised: Aacute, Adieresis, Eacute, Edieresis, Iacute, Idieresis, Jacute, Oacute, Odieresis, Uacute, Udieresis, Wacute, Wdieresis, Yacute, Ydieresis, aacute, adieresis, eacute, edieresis, edotaccent, iacute, idieresis, jdotless, jacute, oacute, odieresis, uacute, udieresis, wacute, wdieresis, yacute, ydieresis.
Update #12 Added 30. November 2020: initial p and f, and a variation for the lowercase t.
Update #11 Added 29. October 2020: special form I, final-form t
Update #10 Added 28. August 2020: J, initial form y, colon
Update #9 Added 28. July 2020: Q, final form e, Alternative Form U
Update #8 Added 28. June 2020: P, final form n, initial form i
Update #7 Added 28. May 2020: Number: repaired ligature features, U, final form y & s
Update #6 Added 28. April 2020: Numbers: 3, 5, 6, 7, 8 (Numbers are complete)
Update #5 Added 31. March 2020: Capital letters: D — Numbers: 4
Update #4 Added 25. February 2020: Capital letters: I — Numbers: 1, 9
Update #3 Added 25. January 2020: Capital letters: A, R
Update #2 Added 27. December 2019: Capital letters: C, E, O, V — Numbers: 2, 0 — Signs: hyphen
Update #1 Added 27. November 2019: Capital letters: L, K, N, W, S, T, F, B, Y, H — lower-case letter: g — initial lower-case letter: t.init — Signs: Bullet, comma, quote-single (or apostrophe - very important for English), quote-double, quote-double left, quote-double right