Designing Programmes
Update #3
December 2022
2 students

translate

Designing

Programmes into French.


And a typographic Xmas sweater.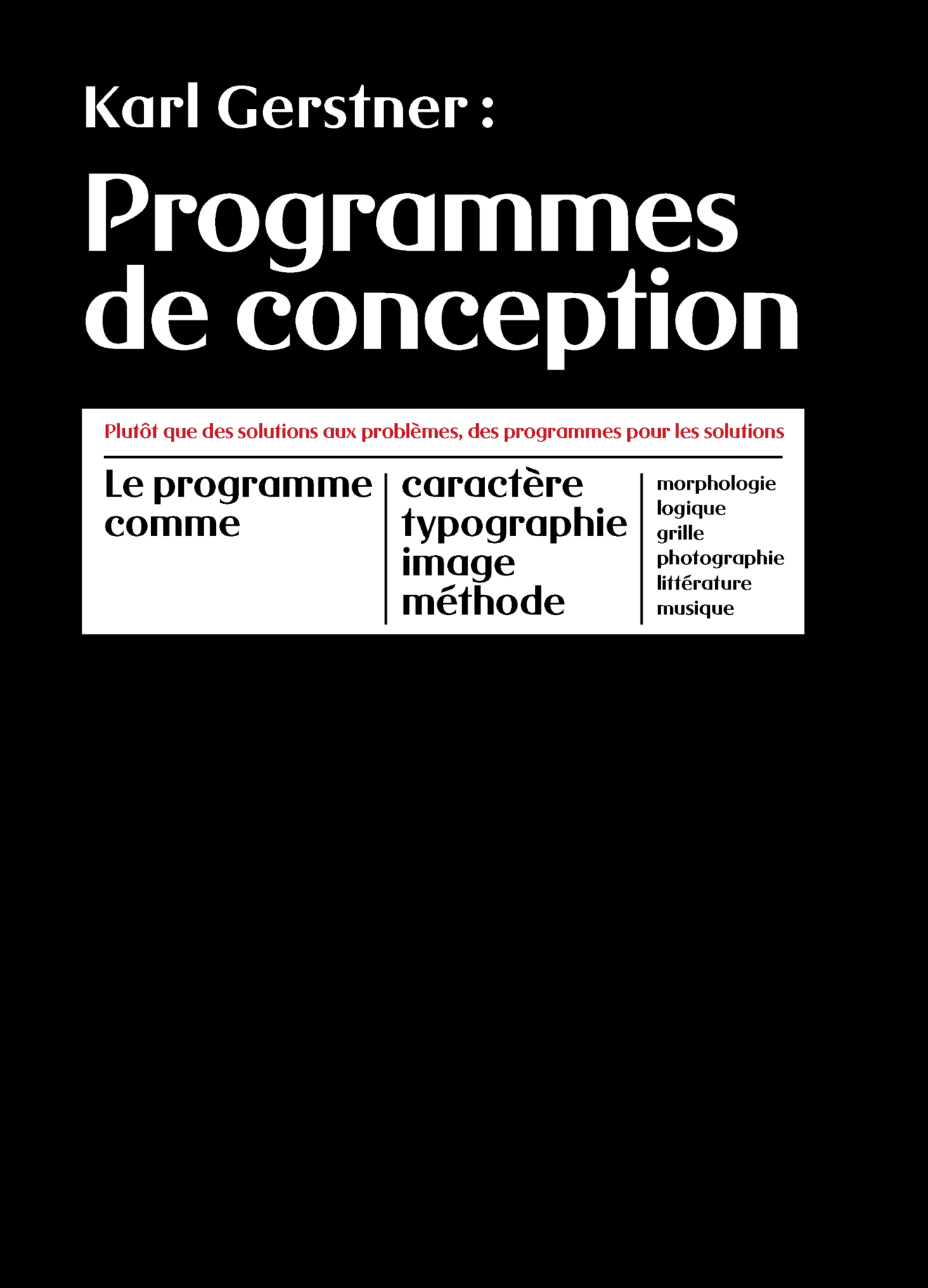 Dear reader reader,
You downloaded Karl Gerstner's Designing Programmes. I wanted to let you know that the project is celebrating a great success — its translation into French! The new version is ready for you to download from your account:


Intention
When I first encountered Designing Programmes around 2005, I was limited to an almost half-a-century-old copy in my university library. Because of that, I contacted Karl Gerstner about reissuing the book. I intended to avoid the possibility that the book could be inaccessible to someone in the future. Together with Gerstner, we created an updated print version (which is now out of print) and decided that a digital version would be free.


Shortly after designingprogrammes.com went online in 2020, Sarah Fenrich and Romain Laurent reached out to me:


We are Sarah and Romain, two graphic design students in the art schools of Rennes and Valence (France). We discovered Designing Programmes 2 years ago and we were very interested in this book. We wanted to translate it from English to French, first for personal work, but also to make this book more accessible for some French students, especially those around us.

Recently, we came across your website … We were pleasantly surprised to see that you anticipated that it could be translated into several languages.

We're contacting you today to let you know that we've been trying to translate the book for a year, and we would be delighted to discuss this with you if you want.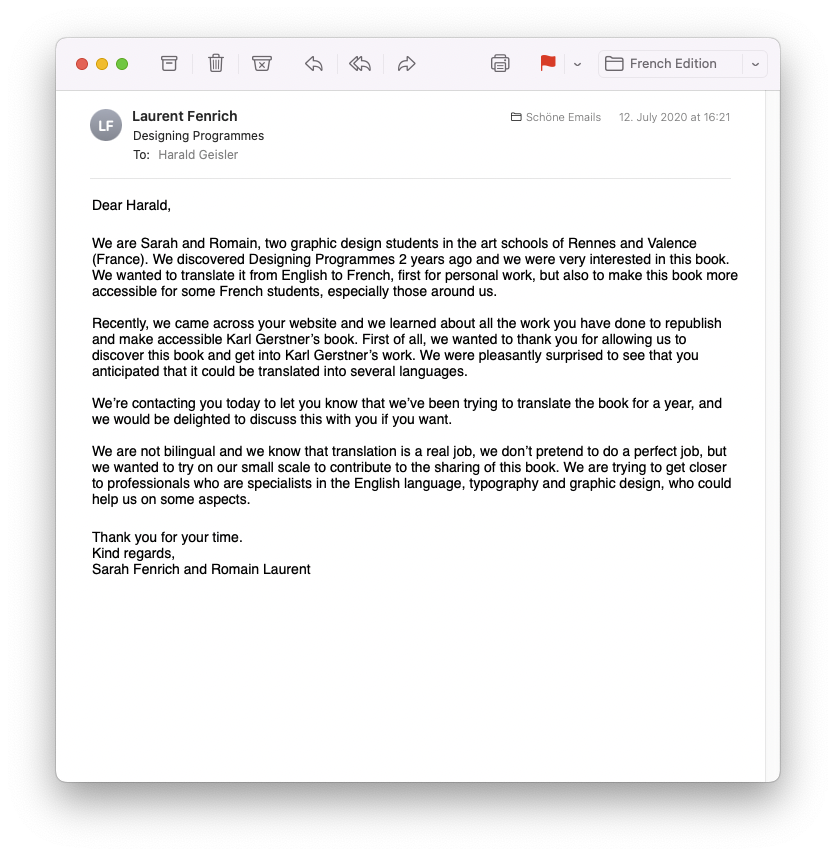 This was in 2020, and today, two years later, we are happy to announce that the first half of Designing Programmes is now available to the public. The second half will be added in 2023. Additionally, programmesdeconception.fr is live, and everybody can download the PDF for free.


This fulfills one of the goals I set out to do when this project started: making the work accessible. The merit belongs entirely to the two graphic designers and typographers, Sarah and Romain; they did the job - you can thank them personally at laurentfenrich@gmail.com.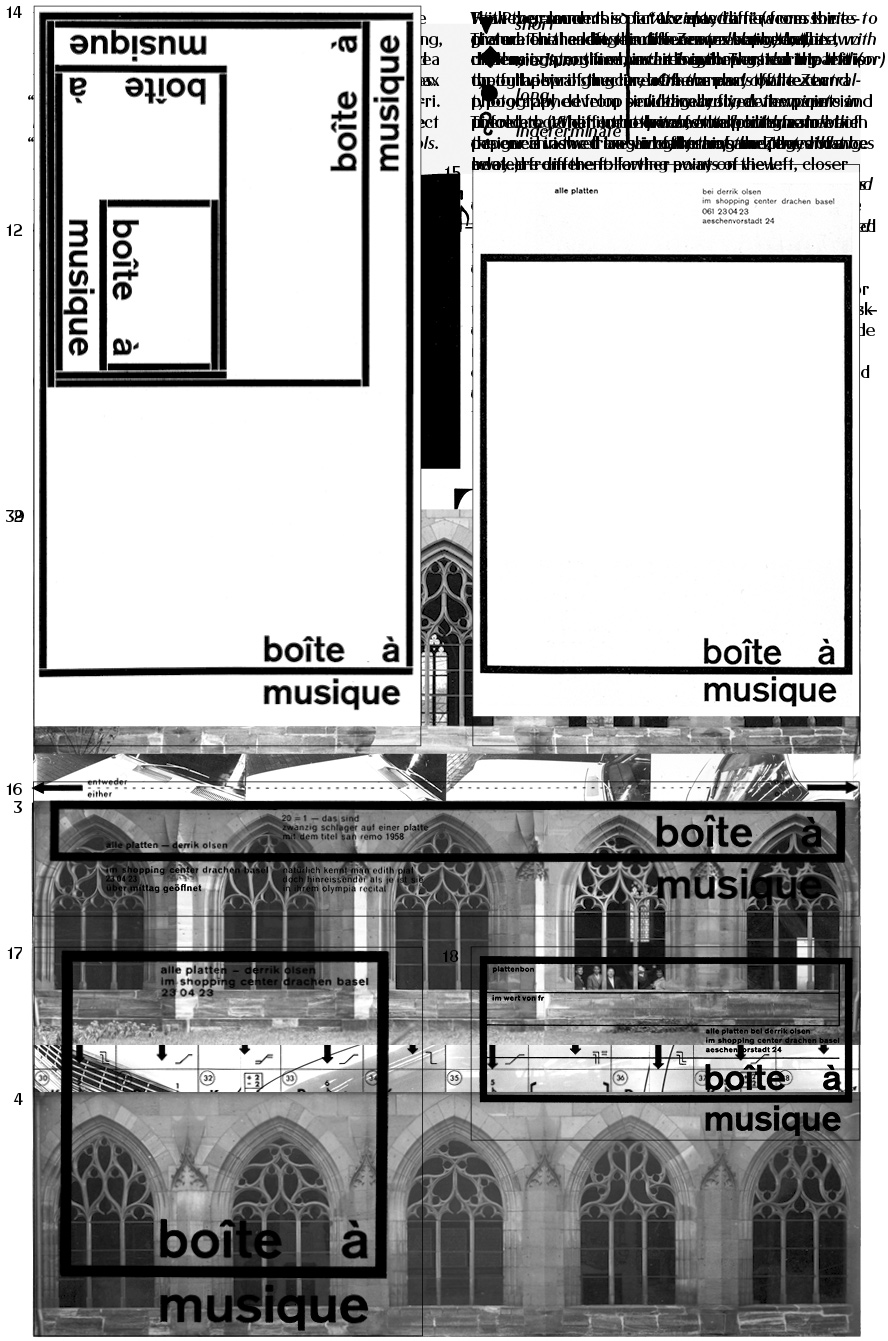 300 Million +
On a larger scale, this opens the discussion about Designing Programmes for a new audience. As a typographer, I am interested in everything related to reading and writing. Looking at reading and writing, language is an obvious barrier that is often overlooked. If a book is written in a language one doesn't speak, its thoughts are locked away, and one is removed from the discussion about its ideas.


Currently, ~300 Million people around the globe are fluent in French. It is the official language in 29 countries: Belgium, Benin, Burkina Faso, Burundi, Cameroon, Canada, Chad, the Ivory Coast, the Democratic Republic of the Congo, Djibouti, Equatorial Guinea, France, Haiti, Luxembourg, Madagascar, Mali, Monaco, Niger, Rwanda, Senegal, Seychelles, Switzerland, Togo, and Vanuatu. There are calculations that by 2050 700 Million people will speak French (80% in Africa).


Today Sarah and Romain removed one barrier and opened the space for a whole new audience. And think about all the many more readers of the future! All will read "Programmes de conception" for free.


I hope many more languages will follow, opening up the discussion further and keeping the ideas in the book alive and in conversation.


To celebrate the release of Programmes de conception, I created this T-shirt: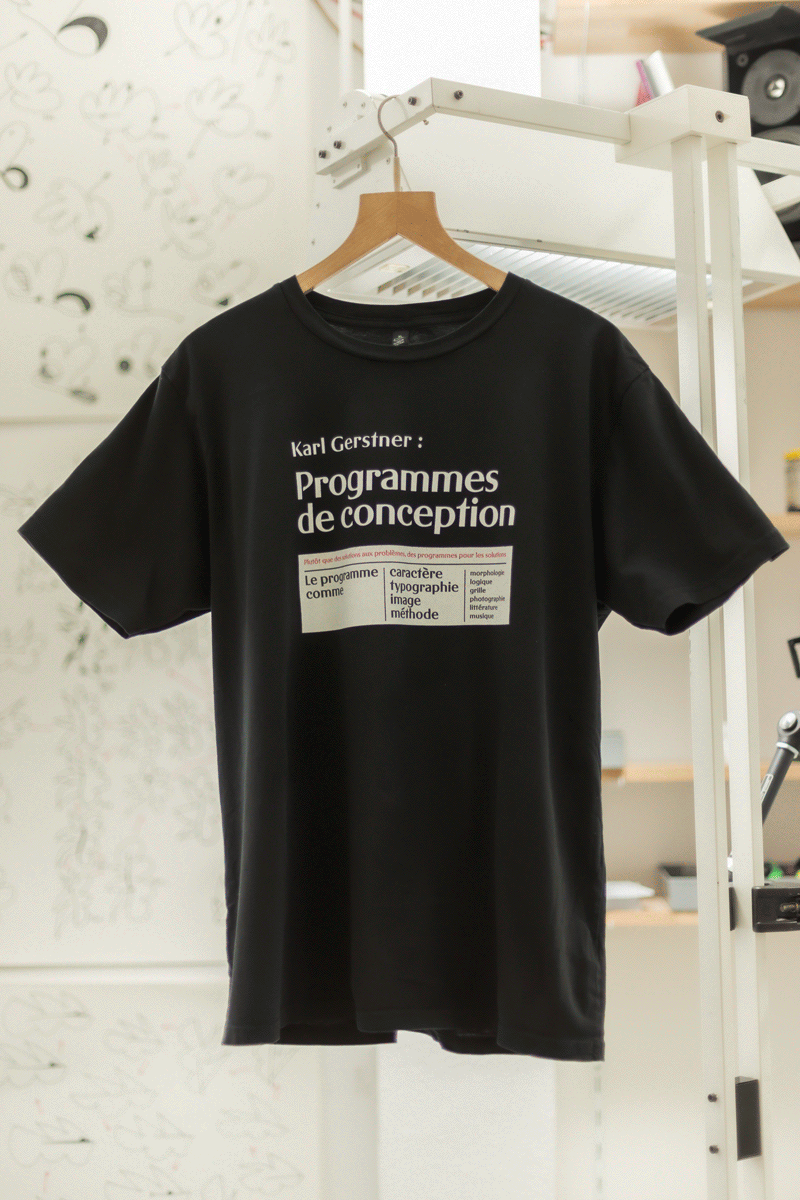 🎉Celebrate with us
The shirt is produced fair and organic. You can order it in black and blue.
By now, I washed (and tumble-dried) the black shirt at least ten times, and the printing still looks good. It's fun to wear it and I am looking forward to enjoying it in the years to come. I recommend it. 👍

(I am 197cm, 87kg, and wearing an XL, I tried an L and it fits too)
Call to action
Do you have a friend who is fluent in French and could be interested in "Programmes de conception"? Please share the news and send them to:
A typographic 🎄 sweater.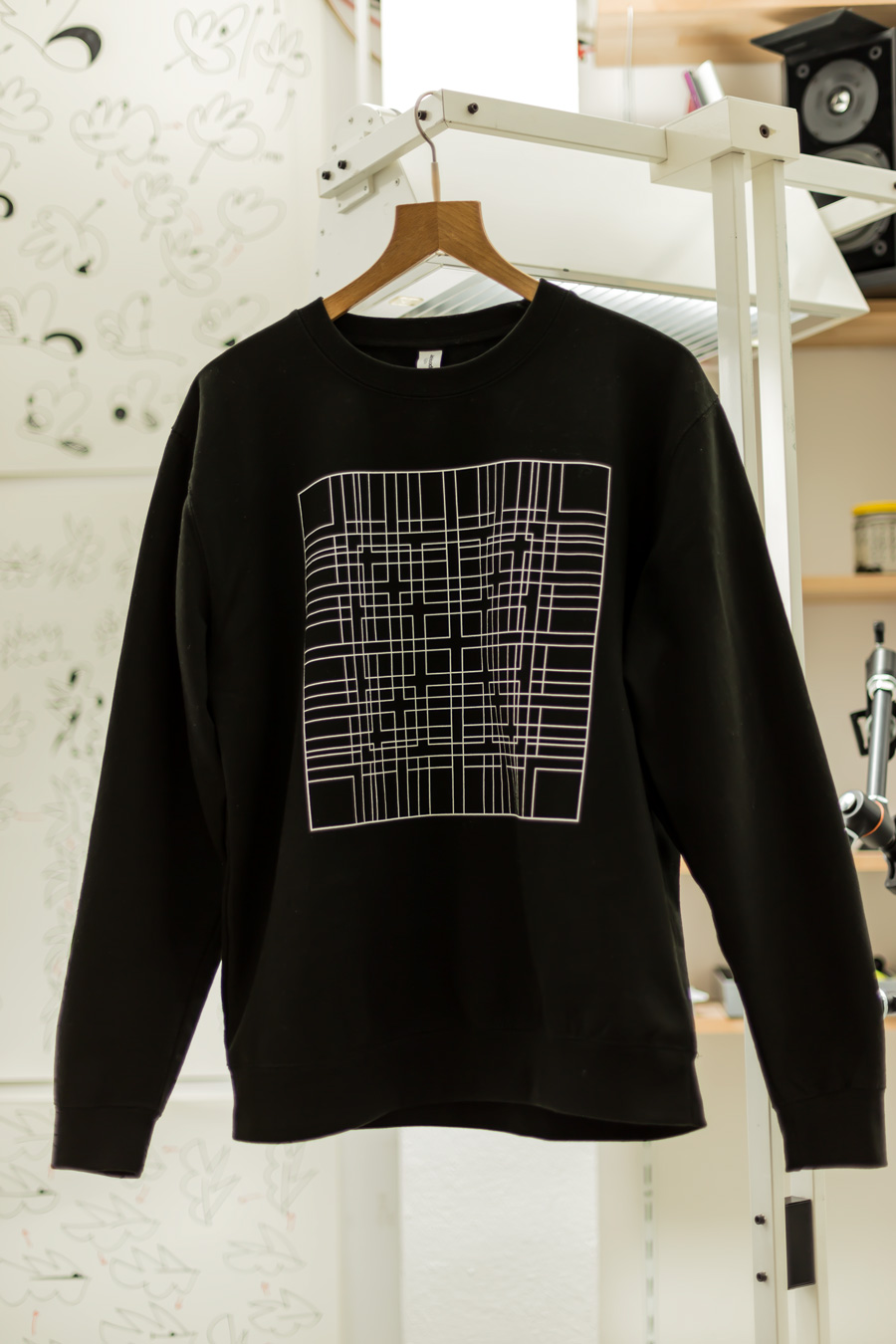 I experimented with the "mobile grid" motive (Programme as grid, Designing Programmes, page 17) and created this sweater. When I first put it on, it reminded me of a Xmas sweater.
Do you like to get a mobile-grid-Xmas-sweater?
The "mobile grid" was initially developed for the magazine Capital in 1962. The image of the grid was what drew me into Designing Programmes. Earlier this year, Capital published its 60th-anniversary issue and redesigned the complete magazine closely to Gerstner's original design. I got a copy of the 2022 issue - and started searching for an original document from 1962. A couple of months later, I got lucky and auctioned a copy in fantastic(!) condition. I am excited to share more images from inside in one of the following newsletters.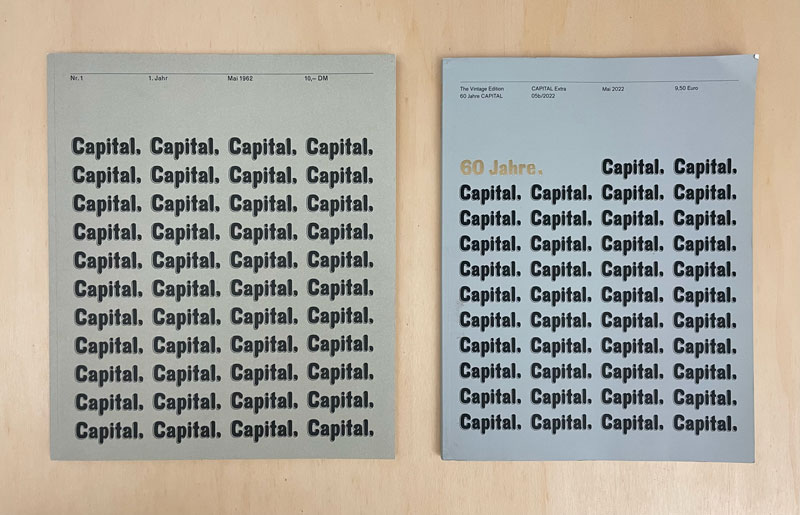 ←Capital 1962 ↑ Capital 2022→
Donate!
So far, 1259 people downloaded Designing Programmes or the German version Programme entwerfen. I am happy about that.
One person from Canada decided to support this project with 20€ quarterly. Thank you!

N. Jaffe, Coquitlam, BC 🇨🇦

reader reader donate and get your name and a link on this list in the coming newsletter.
Donations can be made quarterly through PayPal or a credit card. Here you can find an overview of all →donations.
Get involved

🇪🇸🇰🇷🇳🇱🇮🇹🇧🇷🇯🇵🇨🇳🇻🇳🇸🇪🇺🇦
Would you like to translate Designing Programmes to another language, or did you find a typo or error in the PDF or files? Reply to this email, and I will get in touch with you.


If you have any questions about this project, reply to this email. I am happy to help.


Enjoy the files and stay tuned for more updates,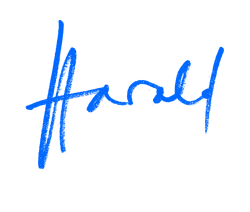 🔑Lost Password?
Did you forget your password to download your files? To reset a password, try this link:

haraldgeisler.com/my-account/login-to-your-account/

enter your email and click on "Lost Password" - this will automatically send instructions to reset your password. (Please check your spam folder - automated emails tend to go there)
📝Update History