Martin Luther King Font Update
#34 - Four new letters.
March 2023
Dear reader reader,
You downloaded the Martin Luther King handwriting font, and I wanted to let you know that an updated version is ready for you to download from your account: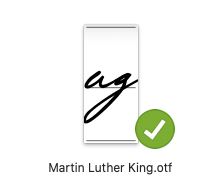 The new version will appear in your font menu as "Martin Luther King 2023 March." I recommend uninstalling older versions to keep your font menu organized. The next update will arrive in April 2023.
First, I wanted to apologize for skipping last month's update. After I successfully made it through three years of the pandemic, one day before all restrictions in Germany were lifted, I came down with my first Covid infection 🙄😖 - It took me a while to recover, and I am taking things slow. Right now, I am delighted to share with you this update on the Martin Luther King font.

This update adds four new letterforms and four signs:
English is one of the few languages with many isolated letters that appear in writing, for example, "I" and "a". In the last months, two more of these isolated letters caught my attention "

t

" and "

s

." For example, to shorten "not" as in did not - didn'

t

or to shorten "us" as in let us - let's or express possession as in Martin'

s.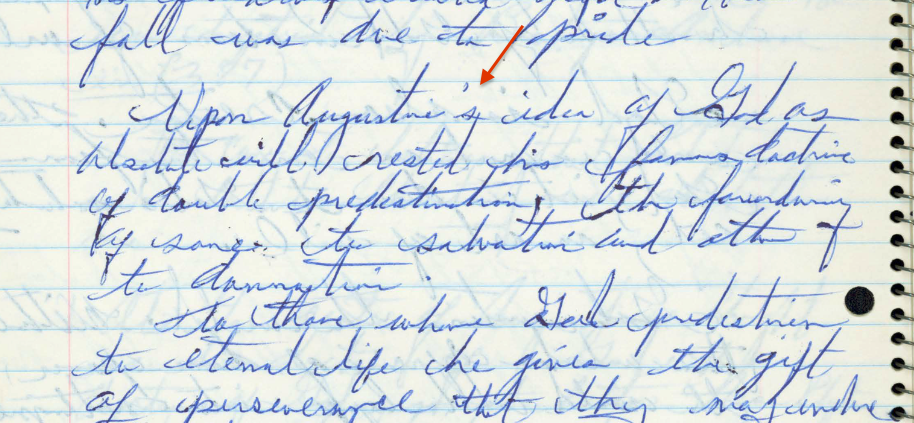 These details will not get much attention in a regular Font, but this is essential for a handwriting font. Looking at the manuscripts below, you will find that these letters do not connect to another letter but stand for themselves. That is because the apostrophe interrupts the flow of writing. Now in the case of Dr. King's penmanship, one could conclude that these isolated forms look a bit, maybe freer and as if they are reaching out, spreading to the left and right side. This I like to reflect in the font.
Here are the letters added with this update:
Isolated letters:

s (+ 2nd version) as in Martin's
t (+ 2nd version) as in didn't

Signs:

4 Versions of ' apostrophe
1+2. Isolated Letters: s (and 2nd version) as in Martin'
s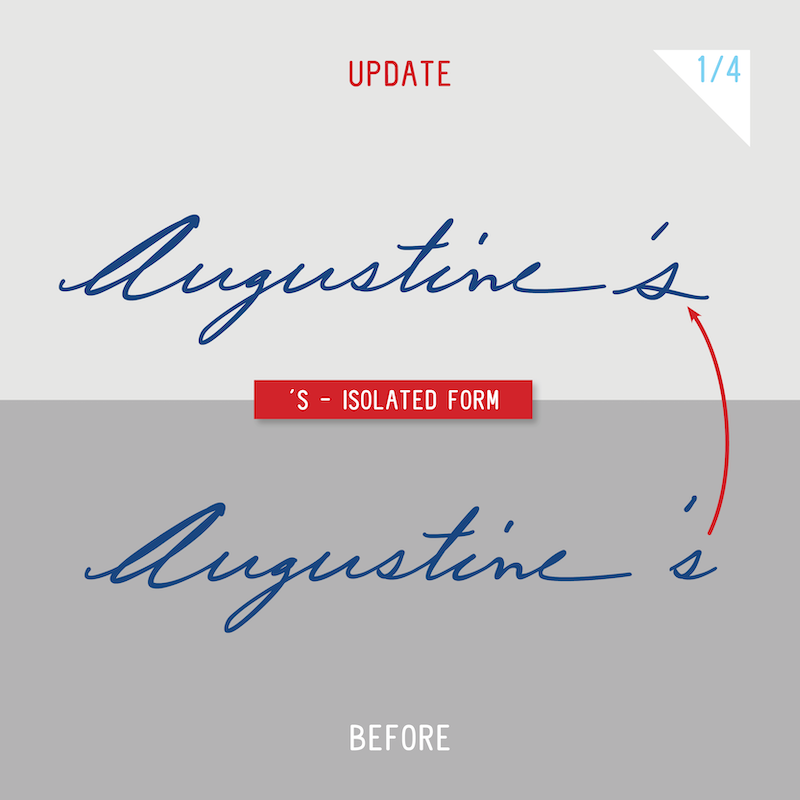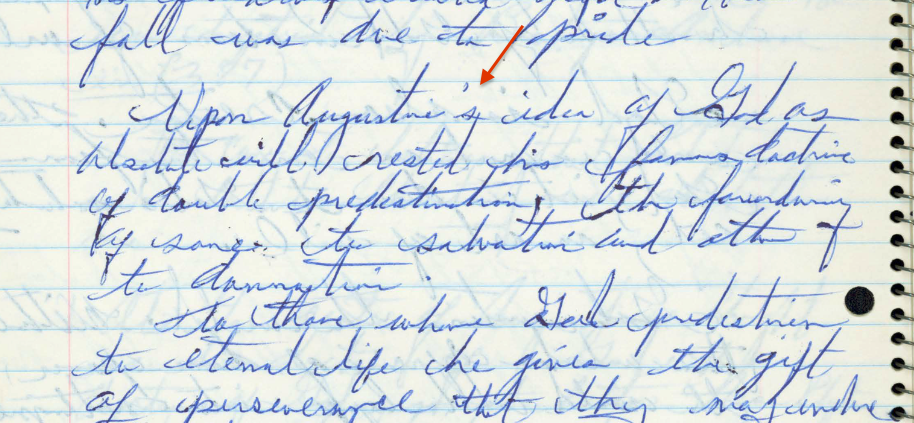 The text above, "Upon Augustine

's

idea of God as absolute will rested his famous doctrine of double predestination, the foreordaining of some to salvation and others to damnation.
To those whom God predestines to eternal life he gives the gift of perseverance that they may endure to the end."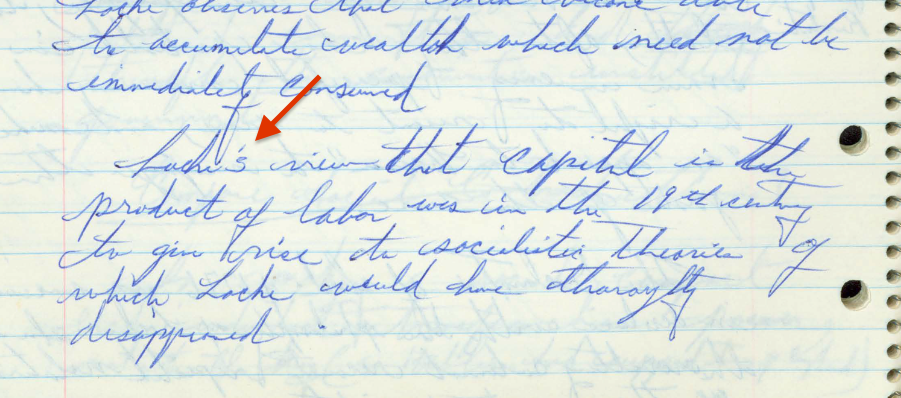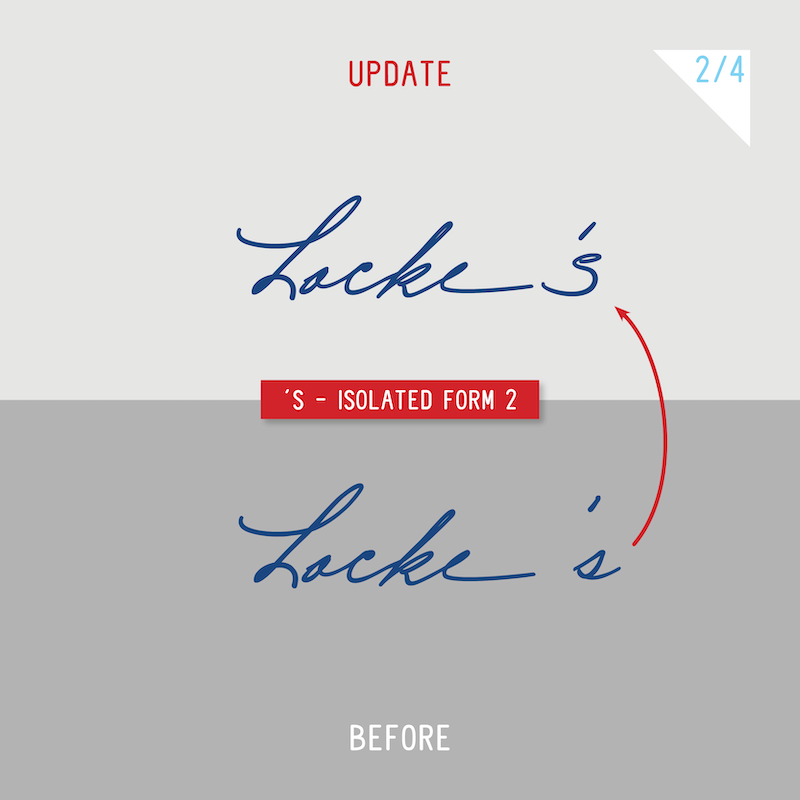 3 +4. Isolated letters: t (and 2nd version) as in hadn'
t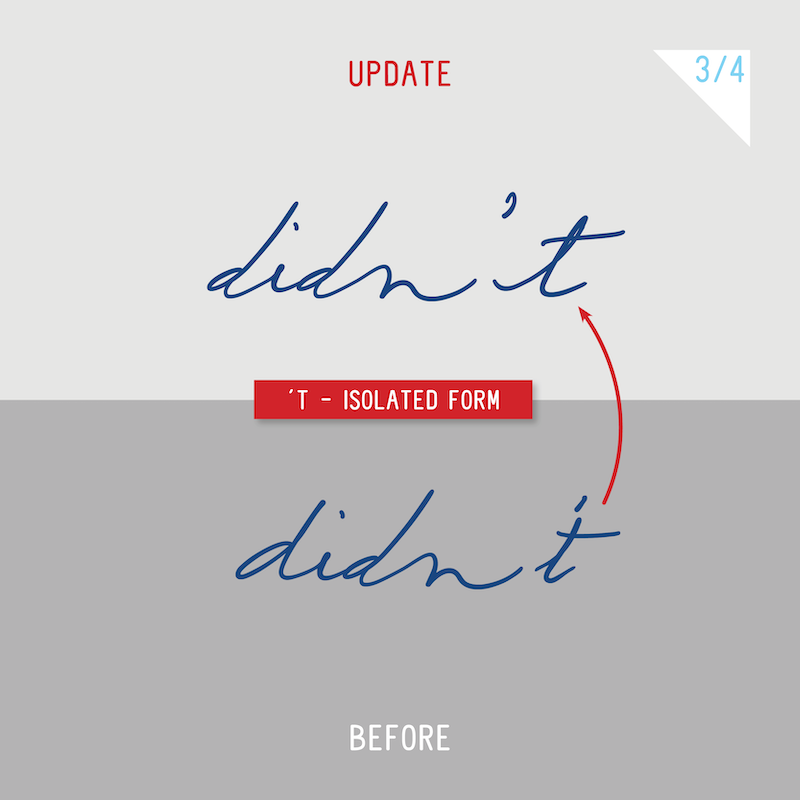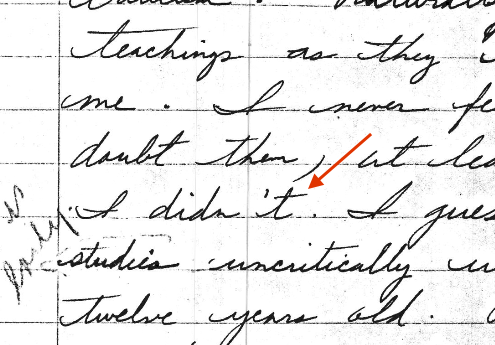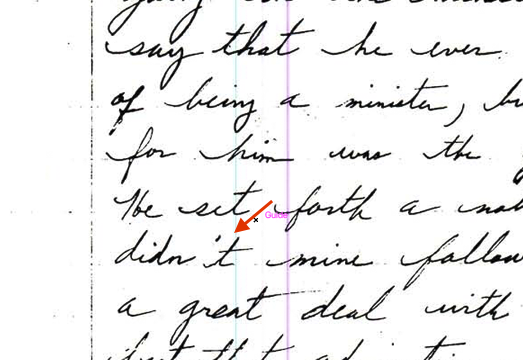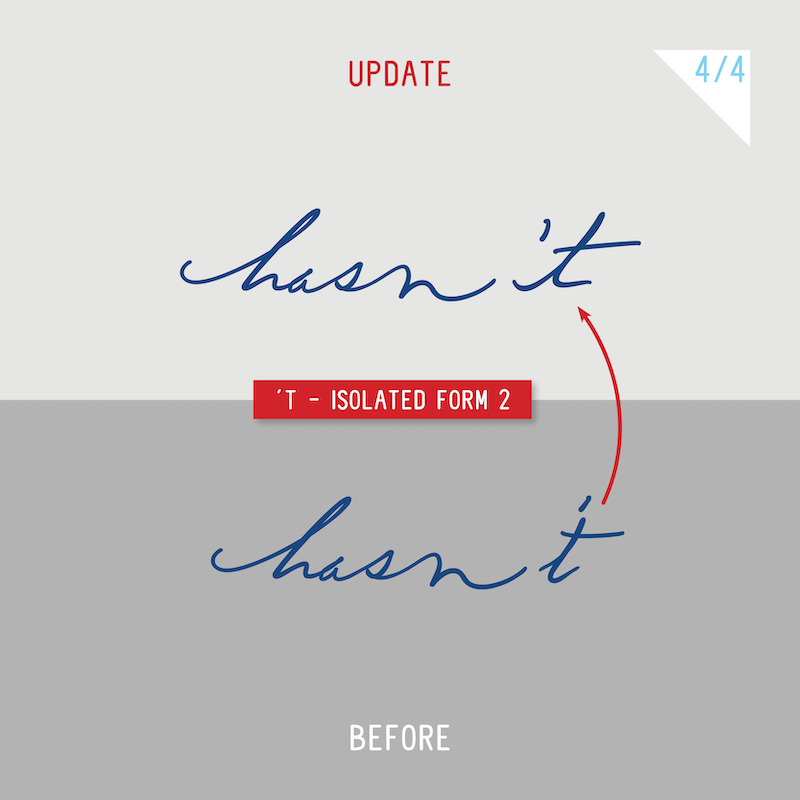 While working on integrating this feature, I also discovered a bug in the programming of the font that exchanges letters as you type. I managed to improve the issue, but fixing the full functionality will take more coding, which I scheduled to implement with the next update.

These changes may seem small, but it enriches the reading experience with subtle variety. And I find this kind of complexity very pleasing to the eye.
If this is not working on your computer, look at the PDF tutorial "How to use the MLK handwriting font" included with the font.
Here you see an overview of the letters that come with this update; you can find the spreadsheet ➞ here:
reader reader, I like to hear from you!

I want to take some space to thank everybody who supported the font creation this month. This update is possible because of the financial support of 23 people from around the world:
B. Desclee, Brussels 🇧🇪
C. Smith, Nedlands, WA 🇦🇺
D.Chamberlain, Benicia, CA 🇺🇸
F. Chaplais, Ile de France 🇫🇷
F. Engerer, Nürnberg, Bavaria 🇩🇪
G. Sjölin, Örebro 🇸🇪
H. Billetter, Kerpen, North Rhine-Westphalia 🇩🇪
H. Colsman-Freyberger, Mannheim, Baden-Württemberg 🇩🇪
H. de Wolf, Zaandijk 🇳🇱
J. Ford, New York, NY 🇺🇸
J. Holze, Magdeburg, Saxony-Anhalt 🇩🇪
J. Horton, North Turramurra, NSW 🇦🇺
J. Wilson, Nashville, TN 🇺🇸
K. Engelbrecht, Bern 🇨🇭
K. Tilley, Linthicum Heights, MD 🇺🇸
L. Kaptain, Denver, CO 🇺🇸
N. Renner, New Britain, CT 🇺🇸
N. Wilson, Broken Arrow, OK 🇺🇸
P. Herman, Bonsall, CA 🇺🇸
R. Lindsey, Grand Terrace, CA 🇺🇸
R. MacDonald, Gourock 🇬🇧
R. Wampler, Colorado Springs, CO 🇺🇸
T. Zwitserlood, Amsterdam, NH 🇳🇱
Support the Martin Luther King font.
This project is very dear to me; I hope you enjoy the font. Without support, this project would not be possible! The more people support the project, the more time I can spend working on the font.


1. Donate regularly to the font.
I will add one letter for each 100€ ($110, £90) donated monthly, and sometimes I add more. reader reader if you want to support: please donate monthly. The continuity will help me and the rhythm of the project. You can find a detailed report on the received donations →here.


2. Spread the word.
Do you have a colleague or friend that might be interested in this? Maybe a high school teacher or student working on Dr. King. Please share this email or link to the project site: https://haraldgeisler.com/martin-luther-king-font with friends, family, and colleagues you think would be interested in the font?
If you have any questions about this project, reply to this email. I am happy to help.


Enjoy the font and stay tuned for more updates,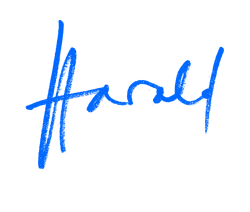 Do you have questions about fonts and how to use them?
I have prepared a → helpful font guide that will guide you through installing a font on different devices. If your question is not covered in the PDF, reply to this email. I am happy to help.
🔑Lost Password?
and enter your email and click "Lost Password" - this will automatically send instructions to reset your password. (Please check your spam folder - automated emails tend to go there)


Update History
Please find an overview of past newsletter updates here: