I like to hear your opinion on my next typography project: Launching a Handwriting Font Library and Contemporary Font Collection
Dear reader reader,
I would like to hear your opinion on my next project. Backstory: Last year I launched a Crowdfunding campaign to create a collection of 5 experimental fonts for 2020. Kind of like a fashion house would make a Spring Summer collection.


For this idea, I received an award from the Federal Government of Germany for outstanding creative entrepreneurship. Usually, the prize is presented at the Bundeskanzleramt, which is like the White House of Germany. Unfortunately, like most events this year, this one went digital too, and I missed out on having a memorable moment there.


But, part of the award was a coaching program to develop the business side of the idea. And this is why I am writing to you.
From crowdfunding to a library card.
In past years I used Kickstarter to finance typography projects. On the outside, this was successful. 17 of 18 campaigns I launched reached their goal.
Looking back at the work on Kickstarter, I realized that I spend about 70% of my time preparing the campaign and only a fraction of my time on the work that I set out to do. This made me sad because I want to spend my time creating fonts and bringing this work to new artistic heights. Further, crowdfunding is not a stable form of income. And I like to set my work on a sustainable path.
That is why I came up with the idea of creating a library of fonts. You would have access to all fonts through an annual library fee, like a Netflix for fonts. This structure would allow me to focus my time on creating fonts and growing the library for everybody!
In the discussions with my coaches, I found out that it is difficult for me to find the right price for this library. And the best way to find the right price is to ask you as part of the community interested in my typographic work.
The Font Library
Exploring the future of reading and writing.
The Font Library gives its community access to all fonts I created and a reliable funding structure to grow and create more fonts for the future. In addition, library members can suggest and vote who's handwriting should be digitized next.
I see the Library in two parts: historic handwriting fonts and experimental font collection.
These are concepts and experiments that explore how reading and writing can look like in the future. And they are fun too!
I aim to create one collection with five fonts released each year.
Currently, the Library holds 18 experimental Font Families (31 Fonts). Until 2030 the selection should grow to 68 Font Families (100+ fonts).
Historical handwriting fonts.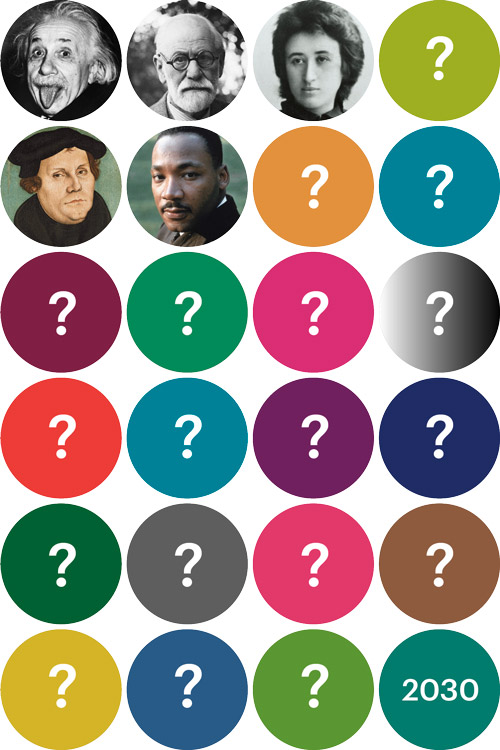 The aim is to create two handwriting fonts per year. The last four historical figures have been male, so the next four should be female. Earlier this year, the Rosa Luxemburg Foundation commissioned a prototype of
Rosa Luxemburg's
handwriting, which will become a part of the Library.
Until 2030 the Library should hold the handwriting of 24 historically essential figures from various cultural and geographical backgrounds.
Diversify the selection of historical figures.
The Library holds 3 German-speaking (Freud, Einstein, Luther) and one North American (Dr. King) handwriting. This selection reflects my interests and cultural backdrop. The handwriting fonts set out to offer everybody around the world a meaningful relation to writing.
To step out of my cultural background, I want members of the Library to suggest and vote for historical figures. Therefore, one of four fonts should be selected by the Library's community.
Thank you so much for taking the time to read this.
I am wishing you a beautiful Sunday and a great week, stay tuned!