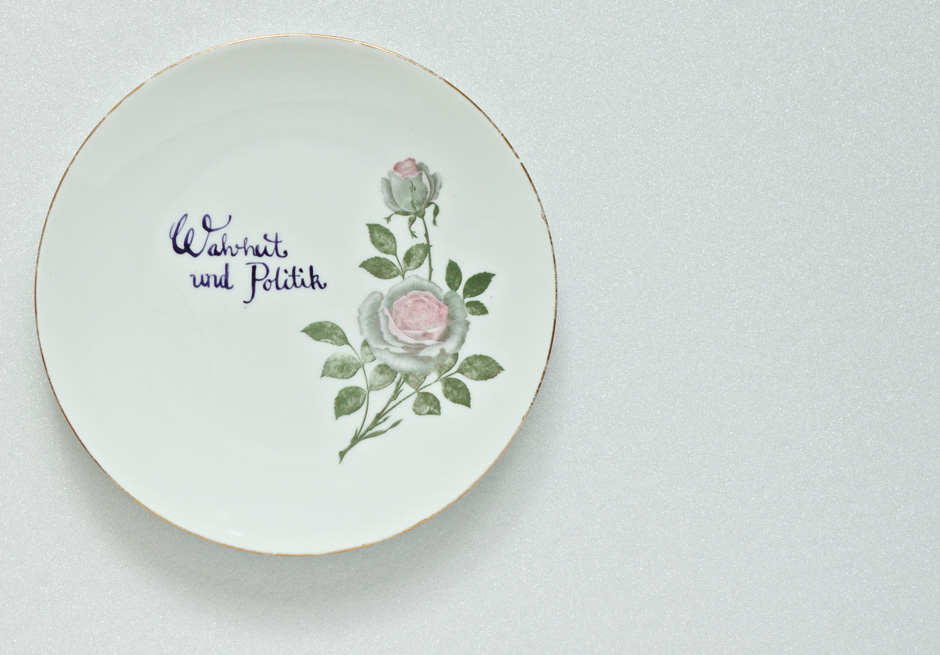 Wahrheit und Politik refers to the title of an essay published in 1964 by Hannah Arendt (October 14, 1906 – December 4, 1975). The text was translated from German to English and then published in 1967 in "The New Yorker – Truth and Politics."
I'm a typographer, and the plate is part of ongoing research I'm doing about how writing and images are used on tableware. Normally decorations and emblems are put by men on tableware to tell a story and to represent towards visitors. Mostly the images, emblems, and writings on ceramics deliver a nostalgic, sentimental, misty-eyed version of what they represent. In this work series, I put (at that time revolutionary) quotes from philosophers on plates from that time. To research how these plates would react with the content – and in most cases, the content reacts with the form.
The porcelain is from Bareuter and labeled on the back with WALDSASSEN – Bavaria – Germany 123 – Probably manufactured at the same time when the article was published. The plate has a flaw (thin hair-line crack) on the front. The plate is signed and dated on the back.