The plate is plain white, with two gold bands and a gold rim. Simple and delicate.
I'm a typographer, and the plate is part of ongoing research about how writing and images are used on tableware. It started when I continuously had to look at the IKEA logo on the cheap glasses in my studio after finishing a drink. Then I realized that there is on almost everything a logo, typography, and images that subtle but constant deliver information.
I started to look around and started not liking the situation. So I looked in the past to see where this heritage comes from. For example, I remember growing up in my parent's house; there were two wooden plates with emblems (armorial bearings) from the town of their forefathers. As a child, I never understood what they meant, and I still can't decode the heraldic details, but to me, as a child, they generated a mystic aura.
Men put decorations and emblems on tableware to tell a story to visitors. Mostly the images, emblems, and writings on ceramics deliver a nostalgic, sentimental, misty-eyed version of what they represent. With this work, I imagined a world where the objects would tell the visitors what they know and witness about the owners. In this case, the plate tells the visitor that they(the owner) don't care that you are a vegetarian.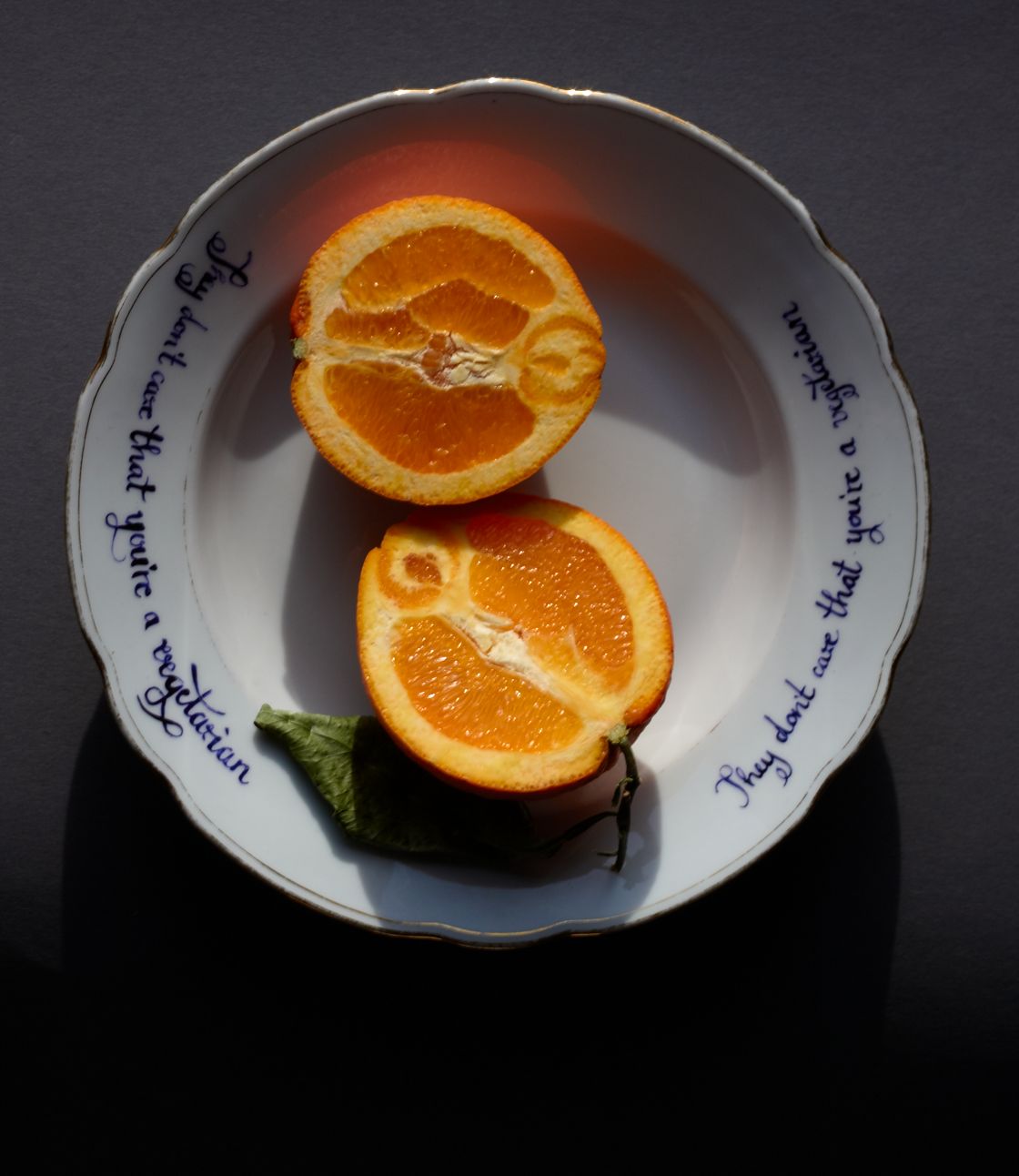 In other works I'm trying to put (at that time revolutionary) quotes from philosophers on plates from that time. To research how these plates would react with the content – and in most cases, the other way around, the content reacts with the form. The plate is signed and dated (2010) on the back. The plate is probably forty to fifty years old. Only one item is available.
First, come – first served.
The plate is heat set for lasting durability. The writing is oven and dishwasher-safe, but not the gold edge.
Are you interested in the plate? Please get in touch with me here.