---
Die deutschsprachige Version finden Sie →hier. Find the German language edition →here.
---
Some important books have only a brief life. They may light up an unexplored area or catch a rising tide of interest before they disappear onto dusty shelves. A few others last, are referred to and recommended by one generation to another.
Designing Programmes is one such survivor.
Richard Hollis
---
Instead of solutions for problems,
programmes for solutions
– the subtitle can also be understood in these terms: for no problem (so to speak) is there an absolute solution. Reason: the possibilities cannot be delimited absolutely. There is always a group of solutions, one of which is the best under certain conditions.
To describe the problem is part of the solution. This implies: not to make creative decisions as prompted by feeling but by intellectual criteria. The more exact and complete these criteria are, the more creative the work becomes. The creative process is to be reduced to an act of selection. Designing means: to pick out determining elements and combine them. Seen in these terms, designing calls for method. The most suitable I know is the one Fritz Zwicky has developed, although actually his is intended for scientists rather than designers. (Die morphologische Forschung, 1953, Kommissionsverlag, Winterthur). I have produced the diagram below in accordance with his instructions and, following his terminology, I have called it the morphological box of the typogram. It contains the criteria – the parameters on the left, the relative components on the right – following which marks and signs are to be designed from letters.
Morphological box of the typogram (click to enlarge):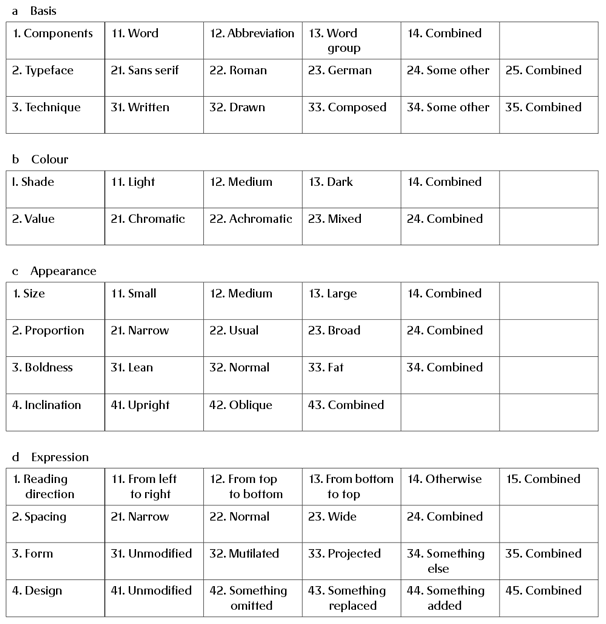 The criteria are rough. As the work proceeds, of course, they are to be refined as desired. The components are to be made into parameters and new components are to be specified, etc. Moreover, they are not only rough, they are also not self-contained. The component "something else" is the parcel in which the left-overs are packed if the parameter does not break down neatly. The designations are imprecise in some cases. There are many imperfections. But it is precisely in drawing up the scheme, in striving for perfection, that the work really lies. The work is not diminished, it is merely transferred to another level.
Karl Gerstner, from the introduction (p.12)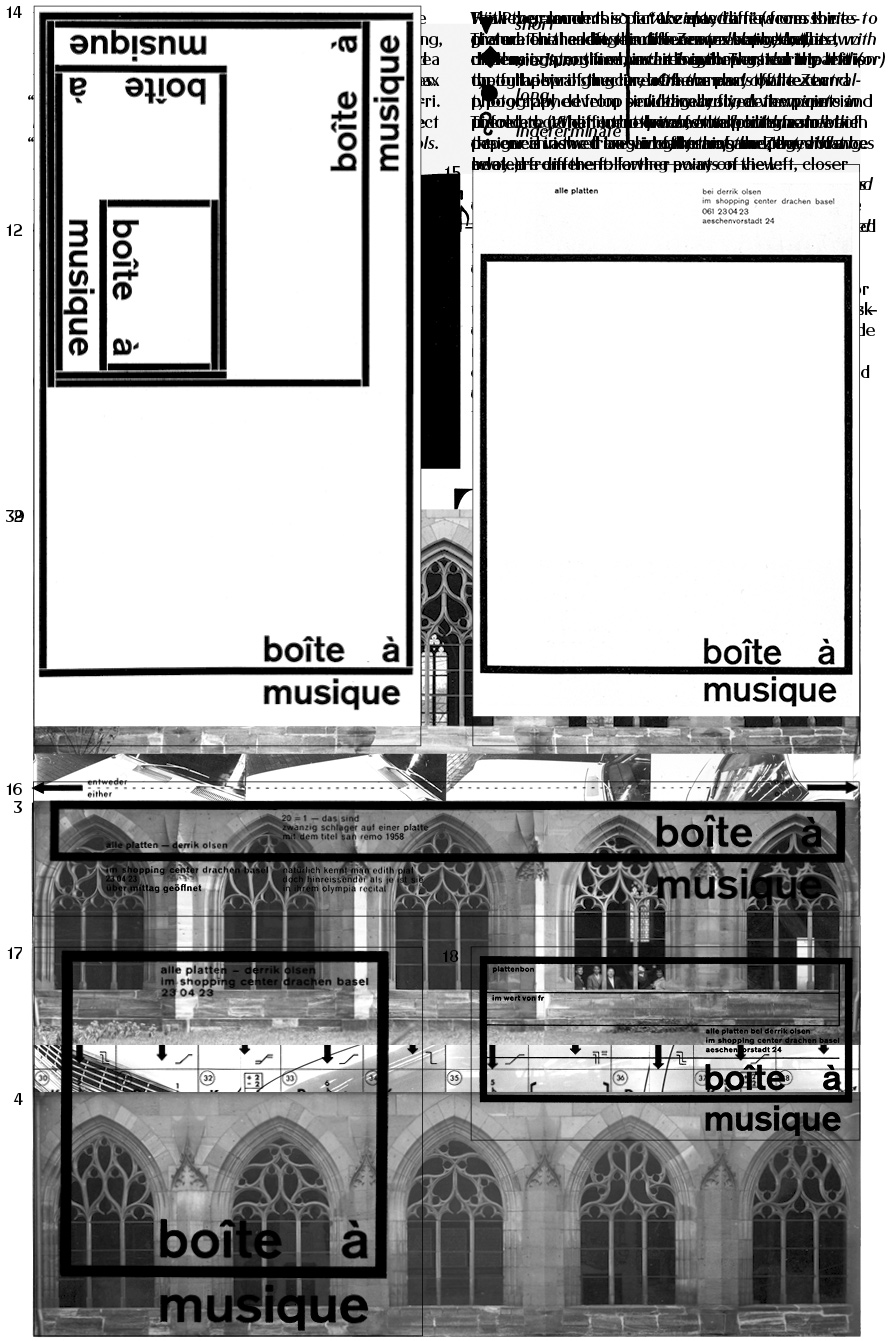 Image: Overlay of pages from Designing Programmes, Harald Geisler
---
How this project came about.
Around 2005 I discovered Designing Programs, 41 years after it was first published in 1964. It was a review written by Richard Hollis and included very small pictures. It was particularly this image that got my attention: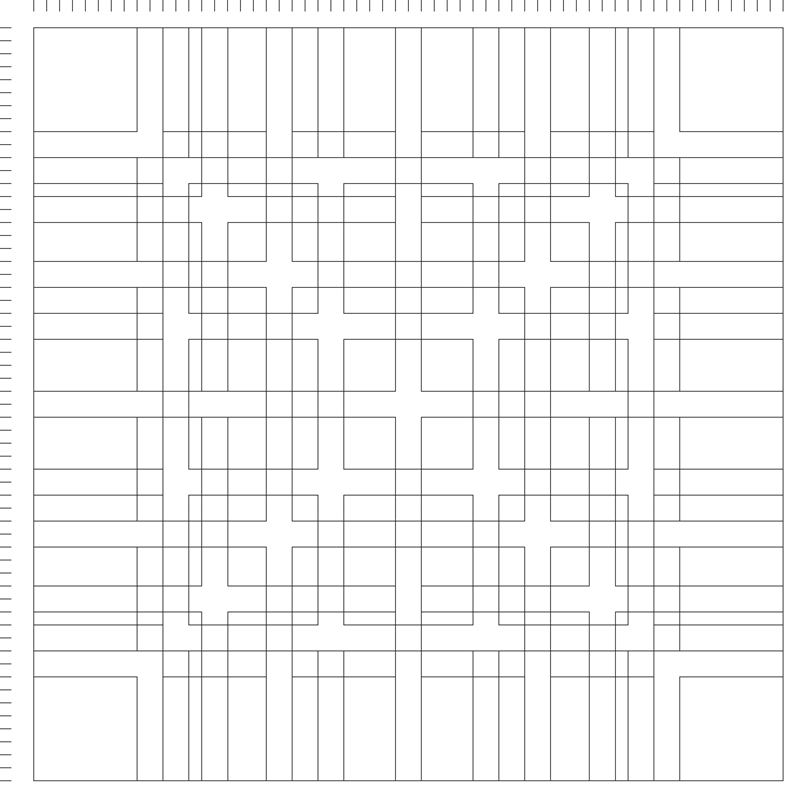 At the time I was in my first-semester typography and started to read everything I could get my hands on.
Having already read Gerstners Compendium for Literates and 5×10 years of graphic design, I was eager to read Designing Programmes too and to get behind the secret of the image. But I could not find a copy. At the time I switched to a different university (hfg OF) and luckily the library had a copy from the 1960s. For one year I would extend the book and I did not like the idea of giving it back. So during a conversation with my typography lecturer Prof. Friedl, the idea of reprinting an edition came about. He simply gave me Gerstner's fax number to reach out to him.
I described the situation to Gerstner and pitched him the idea of creating a new updated version of Designing Programmes, in the way he would do it today. He agreed to meet and discuss the matter. What followed were three years of meetings in Gerstner's remote house near Basel, and due to the lack of Internet, a high volume fax and letter exchange started. Early on Jonas Pabst joined the project and together we created this edition of Designing Programs. In 2007 finally, 4500 copies of Designing Programs were printed in English and German at Lars Müller Publishers. The English edition is so rare that the publisher decided to offer it for €200 ($223) and used prices start at $137. (prices from July 1st, 2020)
The original motivation was that there was no copy available and that this situation should not happen again. I imagined another student in 41 years from now would look for the book and not be able to read it.
Ultimately things tend to get lost over time or just hard to get by. I thought that a digital copy that could always be available for free would be the best way to prevent the situation. So when we made the contract with the publisher we agreed that after a certain time we would make a digital copy of the book free.
This was thought in a time when the internet enthusiastically promised everlasting solutions for everything. A decade later the opposite is true, having seen websites come and go, and formats like flash become unreadable, or complete networks with content disappear. It seems that the university library is more promising than to simply put something on the internet. On the other side, just like in my case not everybody has access to a library.
---
Making Designing Programmes available is what this project is about.
Keeping a site up is one possibility that involves constant costs, and is it enough? To really make a book thrive it needs a community of exchanging readers and advocacy. During the making, I realized that the typographer is always addressed as a man. Further, not all typography and design students are capable of reading English or German texts. Could you imagine translating some of the text to French, Spanish, Korean, or Danish? The examples given in the essays and introduction, with very few exceptions, are a very euro-centric view on design. Gerstner later explored geometric art made in north Africa. Could there be a middle eastern version of Designing Programs? These are just some of the tasks this project sets out to do, and I like to invite you to participate!
This site offers you to download a free PDF copy of Designing Programs. By downloading you are joining a mailing list which will keep you informed about the progress of the project. You can support the project financially with a quarterly amount of your choice. This project can only stay alive through persistent engagement and support.
What you get:
Designing Programmes – Corrected 2020 English Edition (PDF)
Programme entwerfen – German Edition of Designing Programmes (PDF)
Quarterly Newsletter about the progress of the project. If you like to additionally receive the German language Newsletter please download Programme entwerfen →here.
Not yet: Separate PDF Cover
How you get it:
You will receive two emails: one with the links to download the file, and a second one with login information to haraldgeisler.com. Please check your Junk-folder, as automated emails tend to go there.
You can use the login to download future updated versions or to re-download in case you change computers or lose your files.
You will receive updates about the current status of the project.
Possible future tasks:
Maintaining the site and updating the files
Translation to other languages
Offering space for participation and exchange about the project
Starting a discourse about possible extensions or continuations of Designing Programmes:
Addressing the eurocentric – view of Designing Programmes
Extending the view to other cultural areas, i.e. Designing Programmes in North Africa, the Middle East, or…
Creating Workshop and educational material around Designing Programmes for working with students
Adapting / Updating the language
Advocacy
Moving the site from haraldgeisler.com to designingprogrammes.com
Documenting the changes in Designing Programmes
Any Questions?
Enjoy the project, and if you have any questions, you can always reach out to me through haraldgeisler.com/contact, I am happy to help.
---
Free download
You can download the files for personal, educational, and non-commercial use. Do not offer the files on other sites for download. Do not share the files through email or messages. If you like to share the PDF with friends, colleagues and students simply send them to this site. Thank you.
Make a quarterly donation
You can cancel at any time. The minimum is 3€ because of the transfer fees. Your name will be listed in the quarterly support newsletter.