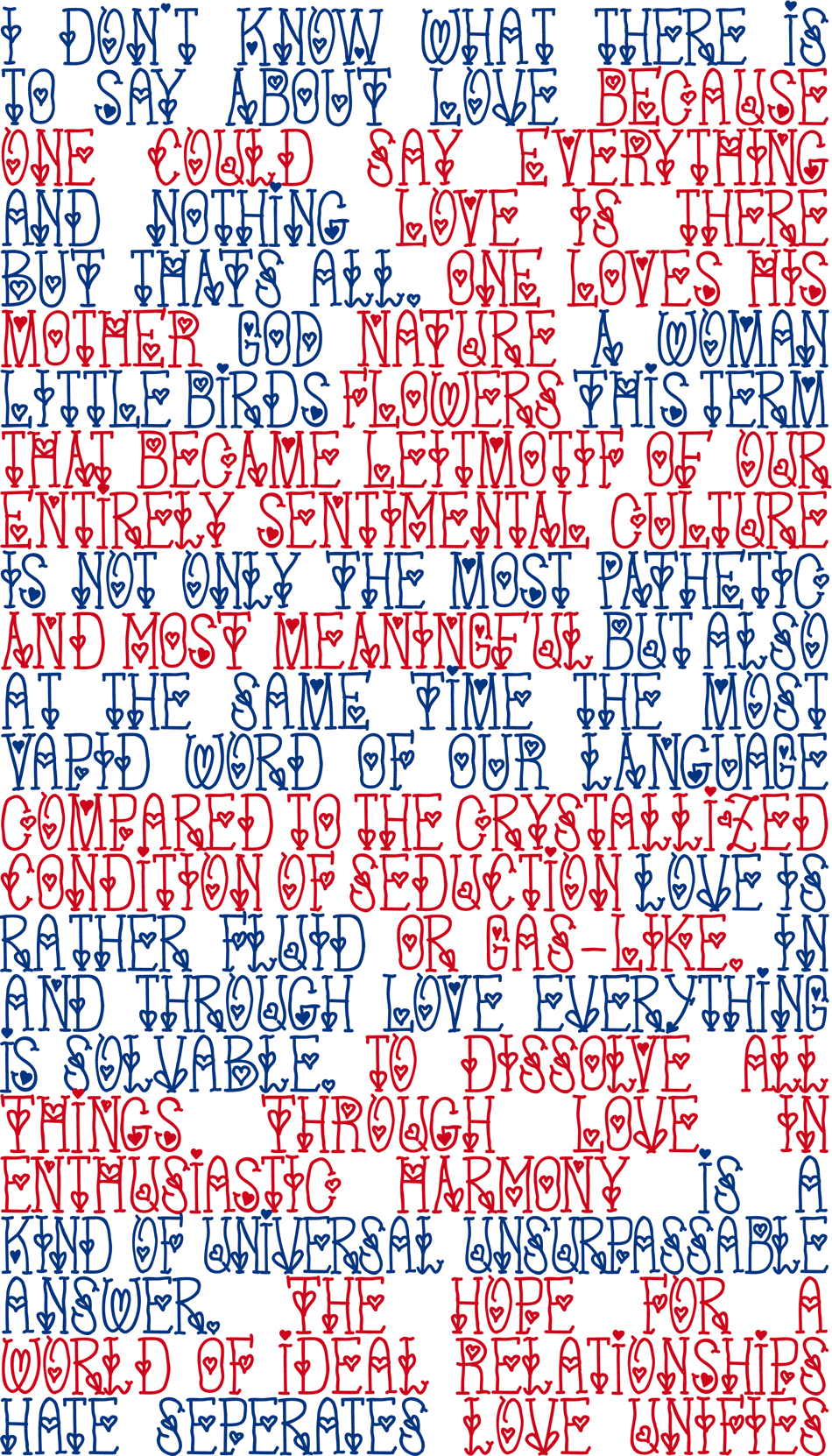 The text, displayed in the picture above "I don't know what there is to say about love…", is my translated english transcription of an introduction spoken in German by Jean Baudrillard (from: Prolog: Wieder die Liebe / Prologue: Against Love). The text continues:
Eros creates and furthers relations,
affects, projections and identifications.
Love one another!
Who could've ever said seduce one another?
Light Hearted is inspired by the above mentioned recording of Jean Baudrillard with the title Die Macht der Verführung 1 (The Power of Seduction) from 2006. The typeface used in the text is Light Hearted Capital Love.
Further inspiration came from the article The shape of the heart: I'm all yours. The heart represents sacred and secular love: a bloodless sacrifice.2 by British writer Louisa Young printed in EYE magazine (#43) London, 2002.
Light Hearted is a Family of seven Fonts.
Let me introduce you to the family members:


Capital Love – Just contains capital letters. By pressing a lowercase button a alternative to the uppercase letter will appear. Every letter of the alphabet decorated with hearts.


Cute Letters – A heart on every capital letter. They are so cute.


Chained Hearts – Hearts on a string with a letter in the middle. All hearts are designed to allign automaticly to a perfect string. Lowercase letters produce a heart with outline. Uppercase letters produce a filled heart.


Prince Charming – The Prince Charming puts a heart on everything.
If you're convinced that you love – you've got to go with Prince Charming.


Princess Charming – The Princess Charming puts more hearts on every letter.
Convince that you have to be loved – follow Princess Charming.


Heartless – is like the ones before but without decoration (for longer texts) – still very cute.


Free Communication – a surprise.
Did you ever needed the right font to say:
I like you
Well here it is. It's called Light Hearted.
Light Hearted is a Family of seven Fonts for PC and Mac. Licenses start from $299
Select the number of users (CPUs or Person): 
By purchasing this Font you agree to Harald Geislers end user license (EULA), which can be viewed here.
More about Light Hearted:
How to use Light Hearted on your blog or website (i.e. headlines)
How to purchase and download a font
It is very simple to purchase and download a font.
First Step.
Select a product license that fits your needs. I.e. you like to install and use the font on two computers select "two users" and press the "Add to cart." button. Check the order displayed in your shopping cart. Proceed with the process by pressing the "Proceed to Checkout" button. Follow the instructions to process the payment.
Second Step.
PayPal
After PayPal has processed your payment - which should be done within seconds - a printable receipt along with a unique download link will be presented to you. By pressing that link the font file will be downloaded immediately to your computer and is ready to use. Additionally the unique download link to the font file and a copy of the receipt will be emailed to you automatically.
Wire transfer / cheque:
After the money is transferred a unique download link to the font file along with a copy of the receipt will be emailed to you automatically.
Please make sure to keep that copy along with a copy of the file at a safe place.
If you encounter problems with processing the payment or downloading, please don't hesitate to contact me directly via telephone +49 69 13878688 or use this contact form
here
.
Payments and security
It is possible to pick up and purchase the item directly at my studio in Frankfurt am Main, Germany. Therefore please contact me
here
, or call ahead (+49 69 13878688) to make an appointment.
In most cases the item (physical (i.e. a print) or digital (i.e. a font file) will be purchased through PayPal. PayPal is a service provider for financial transactions. Depending on your country PayPal will offer a variety of payment options like
bank transfer, credit card or EC-Card
. You don't need to sign up for an account at PayPal to use the service.
Security:
PayPal processes your financal Information directly and transfers the payment to my account. PayPal does not share your financial information with me.
Please visit the
PayPal.com
website to find out in detail about their services.
Alternative payment options:
If you wish to wire the money from your bank account - your all set. After the payment is received you will receive a download link to your purchased font or if you ordered a print it will be send to you.
If you are having problems with the payment process please contact me
here
or call (+49 69 13878688).
Returns

Returning tangible goods:
Returns of tangible goods (i.e. prints or plates) must be claimed within 10 days after delivery through email, phone or fax.

Tangible goods must be send back immediately after claiming the return within the original packaging.

Shipping costs will not be refunded. The buyer ships the item at own risk and cost. A refund will be made after the returned item arrives undamaged.

A restocking fee of 25% of the total purchase price applies to returns of all tangible goods.
A reduced restocking fee of 10% of the total purchase price applies to returned offset prints.

Returning intangible goods:
Intangible goods (i.e. font licenses) are not returnable or refundable, for obvious reasons. If your purchase is proven defective and you notify me within 5 days of your purchase, I will either provide a replacement/update to that item or refund your money.


Sales Tax

All prices are shown without sales tax.

Sales tax is not applied to sales if you are located outside the European Union.

Items are sold from Germany.
Only to purchases made within Germany and the European Union an additional sales tax of 7% or 19% will be added to the final bill.
You will see a breakdown of the applied taxes in your cart before checking out.

You have a question that is not answered above?

1 Baudrillard, Jean: Die Macht der Verführung. Berlin: Supposé Verlag, 2006.
2 Young, Louisa: The Book of the Heart. Flamingo Publishing, 2002.