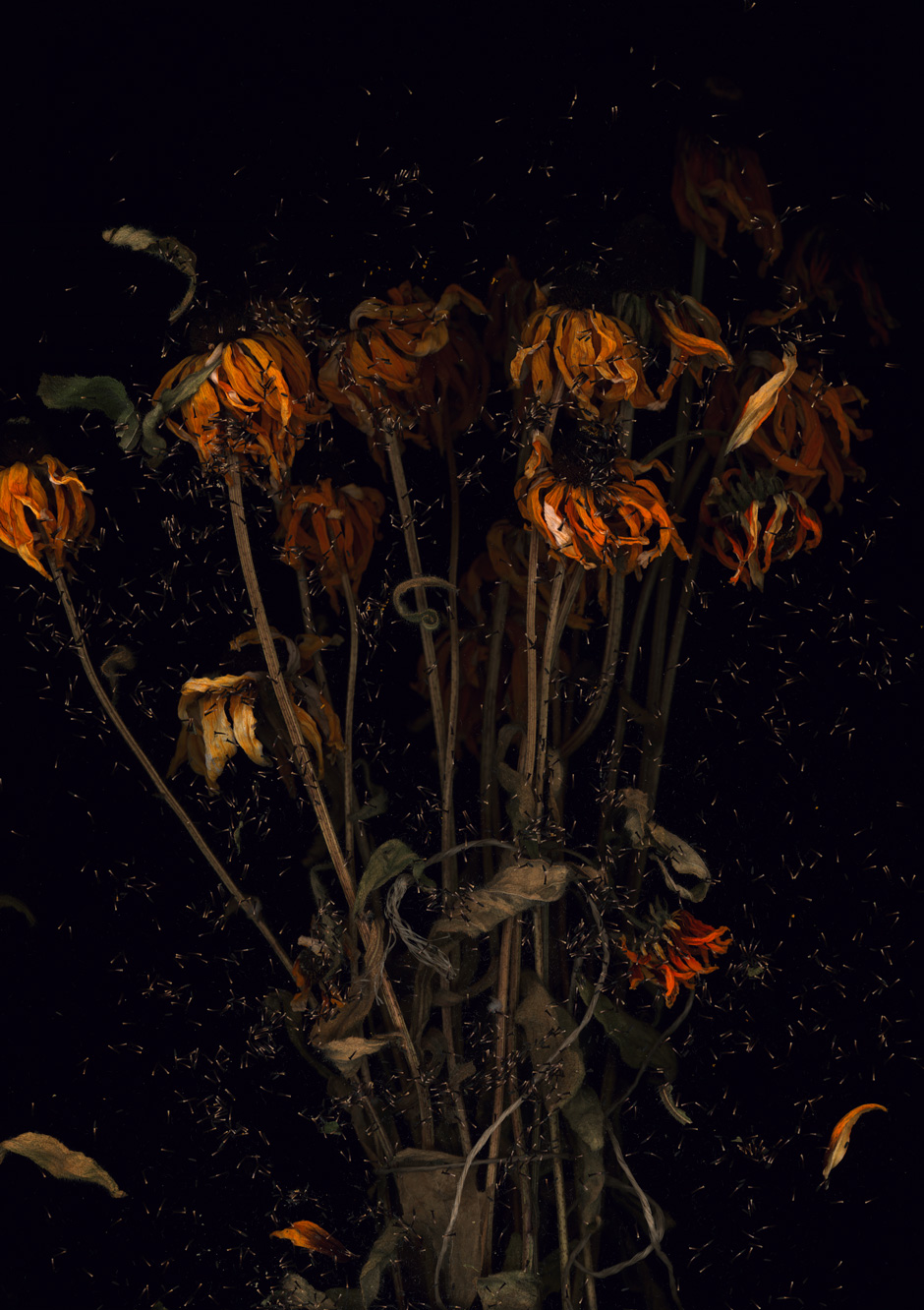 I admit the flowers in this picture (Echinacea) I had forgotten in my studio.
After weeks they dried out, but they kept their color.
At one point they fell down on my couch and spread everywhere.
Since chance is an important factor in my creation process,
I decided to work with it and to experiment and try to capture this beauty.

I never meant to publish this picture, but after I showed my experiments to a friend he insisted that I should print them. As a tribute to the old masters of still life painting that can be found from the 16th to 18th century throughout Europe, especially in the Netherlands and Germany. My friend first thought that I had taken a picture from one of those hundred-year-old Dutch prints. He was convinced the little seeds that lay on the front glass were flies surrounding the fleeting beauty of the fading flowers. While I never intensely studied the old masters, somehow I knew their pictures. Their stillness lures to dwell in the picture. It is the meditational aspect in viewing, or the contemplational rest these pictures offer that fascinates me.


Detail:



The black background and subject matter too are common ground with the "old masters still life".
One difference I'd like to point out.
You'll find layers, such as objects in front of each other and with it depth,
but surprisingly you'll never find the illusion of perspective.
Pricing:
| | |
| --- | --- |
| Echinacea – Limited edition of ten. | Echinacea – offset print. |
optional signed on the front
size of the print: 50cm x 70cm (19.7" x 27.56")
printed on heavy 250g/m² glossy paper in 4 color offset
UV coating protects against water, dust, scratches
UV coating prevents colors from bleaching through sunlight
shipped rolled in a strong protective poster-tube
Echinacea – Limited edition of ten.
Echinacea – offset print
Price $620 (approx. 450€)

Item ships from Germany
Including free world wide shipping.

Please allow 2-3 weeks for delivery of packaging.
Price $80
Item ships from Germany
Shipping costs to :: Germany $8.00 | EU $15.00 | world wide (incl. U.S.) $18

Please allow 1-2 weeks for delivery in the EU and 2-3 weeks for world wide delivery of packaging.
More about the item:
Shipping
Item ships from Germany. The shipment is trackable online through
DHL
or
Deutsche Post.
For all shipments outside Germany I recommend adding a telephone-number to your address. In some cases that can speed up the delivery tremendously. The local delivery company uses that number to contact you if there are problems delivering.
Express shipping is available.
I.e. 48h DHL express to anywhere in the US or Canada starts from 68€.
If you wish express shipping please contact me
here
.
It is possible to pick up the item directly at my studio in Frankfurt am Main, Germany. Therefore please contact me
here
, or call ahead (+49 69 13878688) to make an appointment.
Payments and security
It is possible to pick up and purchase the item directly at my studio in Frankfurt am Main, Germany. Therefore please contact me
here
, or call ahead (+49 69 13878688) to make an appointment.
In most cases the item (physical (i.e. a print) or digital (i.e. a font file) will be purchased through PayPal. PayPal is a service provider for financial transactions. Depending on your country PayPal will offer a variety of payment options like
bank transfer, credit card or EC-Card
. You don't need to sign up for an account at PayPal to use the service.
Security:
PayPal processes your financal Information directly and transfers the payment to my account. PayPal does not share your financial information with me.
Please visit the
PayPal.com
website to find out in detail about their services.
Alternative payment options:
If you wish to wire the money from your bank account - your all set. After the payment is received you will receive a download link to your purchased font or if you ordered a print it will be send to you.
If you are having problems with the payment process please contact me
here
or call (+49 69 13878688).
Returns

Returning tangible goods:
Returns of tangible goods (i.e. prints or plates) must be claimed within 10 days after delivery through email, phone or fax.

Tangible goods must be send back immediately after claiming the return within the original packaging.

Shipping costs will not be refunded. The buyer ships the item at own risk and cost. A refund will be made after the returned item arrives undamaged.

A restocking fee of 25% of the total purchase price applies to returns of all tangible goods.
A reduced restocking fee of 10% of the total purchase price applies to returned offset prints.

Returning intangible goods:
Intangible goods (i.e. font licenses) are not returnable or refundable, for obvious reasons. If your purchase is proven defective and you notify me within 5 days of your purchase, I will either provide a replacement/update to that item or refund your money.


Sales Tax

All prices are shown without sales tax.

Sales tax is not applied to sales if you are located outside the European Union.

Items are sold from Germany.
Only purchases made within Germany or the European Union an additional sales tax of 7% will be added to the final bill.


You have further questions?