Good News: On November 25th 2010 the Kickstarter funding campaign was successful with 205%!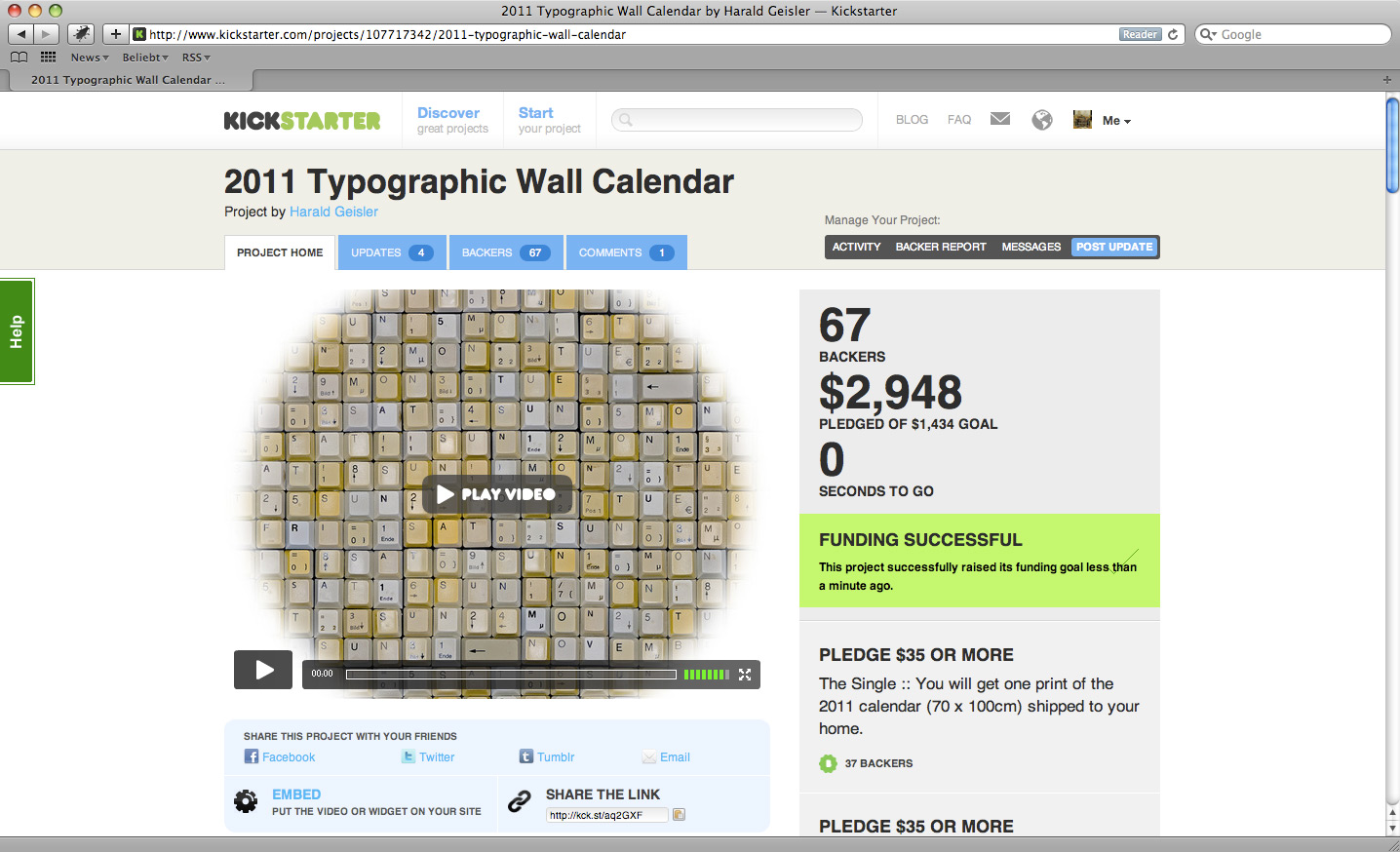 Screenshot from the Kickstarter Site ↑

The Campaign had many supporters.
Here are some quotes that I liked very much:
"…stunning reinterpretation of a calendar is a masterful example
of how a designer can completely flip a genre signifier on its head.
Geisler reimagines calendars in order to change the way we visualize time,
and in turn, redefines what it means to save the date."
Mike McGregor,
Kickstarter, NYC
"…one-of-a-kind…"
Armin Vit,
Quipsologies
(former Speak Up) Vol.47 No.60, Austin TX
"…der minutiöse Wahnsinn, …(der) eher an J. Johns oder
einen sehr disziplinierten J. Pollock erinnert als an deinen
normalen Wandkalender."

Hans Schumacher,
slanted.de
/ projektgrafik.de, Berlin
The Kickstarter Website can be visited here:
https://kck.st/20eleven
To get more information about the Typographic Wall Calendar please follow the link to the
"prototype" 2010 Typographic Wall Calendar" here.
To read the lengthy interview about the production click here:
https://bit.ly/q_and_a_cal

You like a copy?
→https://haraldgeisler.com/order-prints/

The Original Kickstarter Video↓
[youtube 52MGpwV5LQk 940 570]

And finally: the 2011 Typographic Wall Calendar↓