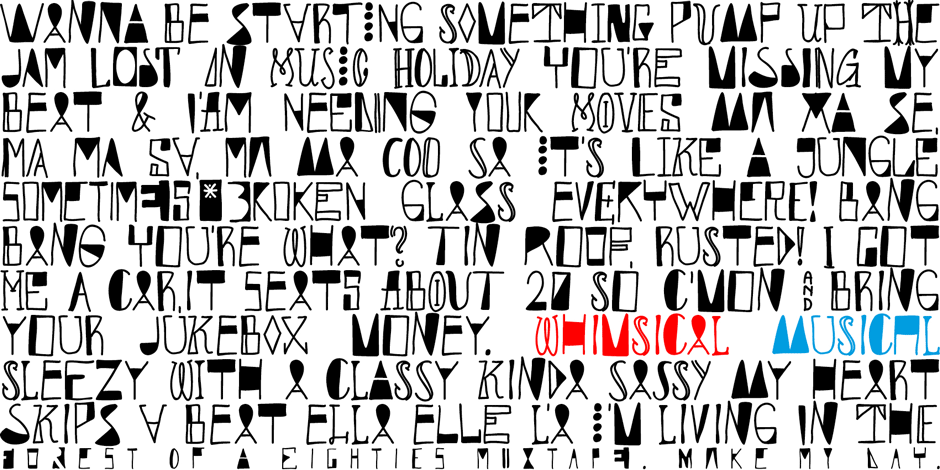 Whimsical Musical
is a vivid, hand drawn font with 
405 alternate letters
, all caps.
Developed from a lighthearted drawing in my sketchbook saying the German word "MUSIK" cheerfully over and over in twenty vivid variations. Next to it was the date "6th April 2007". This initial idea has burst into a font that is full of surprises and whimsical turns. It is dynamically suggestive, like music, and humorously chaotic, as in Dada.
Each uppercase letter is enriched with ten stylistic alternates (OpenType stylistic sets) to create a heap of playful variations amounting to a mountain of possibilities. Recommended for display usage: gonzo headlines, fantastical picturesque covers, extravagant quirky flyers, chichi posters, individual labels and fun logos.
By purchasing this font you agree to Harald Geisler's End User License Agreement (EULA), which can be viewed
here
.
[purchase intro]
More about Whimsical Musical:
How to use Whimsical Musical on your blog or website (i.e. headlines)
Whimsical Musical featured in German design magazine PAGE
Whimsical Musical
is featured in German graphic design magazine
PAGE
:

https://www.page-online.de/emag/typo/artikel/displayschrift_whimsical_musical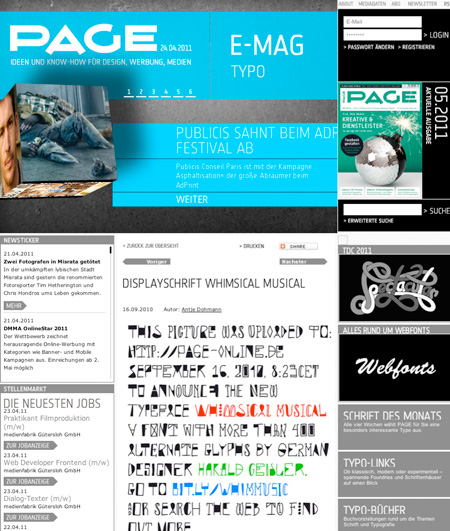 Returns

Returning tangible goods:
Returns of tangible goods (i.e. prints or plates) must be claimed within 10 days after delivery through email, phone or fax.

Tangible goods must be send back immediately after claiming the return within the original packaging.

Shipping costs will not be refunded. The buyer ships the item at own risk and cost. A refund will be made after the returned item arrives undamaged.

A restocking fee of 25% of the total purchase price applies to returns of all tangible goods.
A reduced restocking fee of 10% of the total purchase price applies to returned offset prints.

Returning intangible goods:
Intangible goods (i.e. font licenses) are not returnable or refundable, for obvious reasons. If your purchase is proven defective and you notify me within 5 days of your purchase, I will either provide a replacement/update to that item or refund your money.


You have a question that is not answered above?