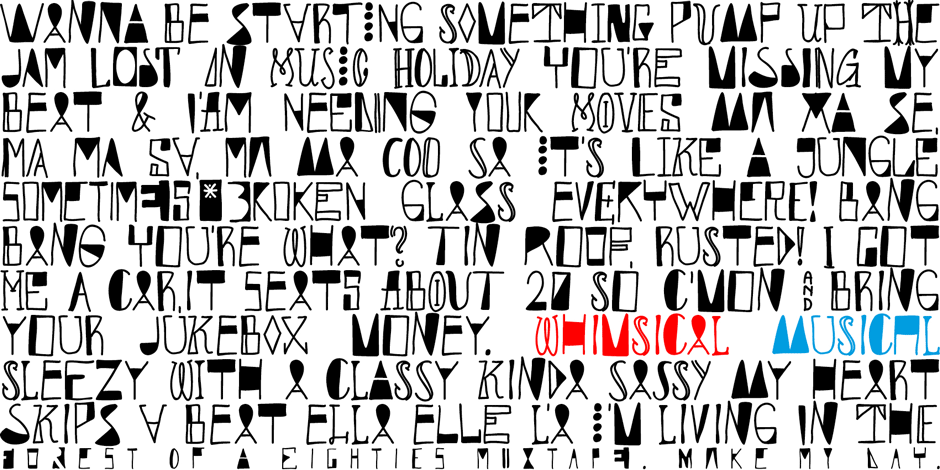 Whimsical Musical
is a vivid, hand drawn font with 
405 alternate letters
, all caps.
Developed from a lighthearted drawing in my sketchbook saying the German word "MUSIK" cheerfully over and over in twenty vivid variations. Next to it was the date "6th April 2007". This initial idea has burst into a font that is full of surprises and whimsical turns. It is dynamically suggestive, like music, and humorously chaotic, as in Dada.
Each uppercase letter is enriched with ten stylistic alternates (OpenType stylistic sets) to create a heap of playful variations amounting to a mountain of possibilities. Recommended for display usage: gonzo headlines, fantastical picturesque covers, extravagant quirky flyers, chichi posters, individual labels and fun logos.
Select the number of users (CPUs or Person):
Whimsical Musical
25,00€–5.000,00€ ( excl. EU VAT)
Benefits at a glance:
Hand drawn letters for a unique look
405 alternate letters!!
Comes in OpenType (Postscript) for excellent print results.
Works on all Mac OS Versions
Works on all Windows Versions
Free updates

All future updates, like extension of the character set, additional ligatures, features, kerning etc. are free.

You will be notified via email if an update is available.
Updates are also announced in the monthly newsletter.


Immediate download
Pay online quickly and securely through PayPal
By purchasing this font you agree to Harald Geisler's End User License Agreement (EULA), which can be viewed
here
.
More about Whimsical Musical:
How to use Whimsical Musical on your blog or website (i.e. headlines)
Whimsical Musical featured in German design magazine PAGE
Whimsical Musical
is featured in German graphic design magazine
PAGE
:

https://www.page-online.de/emag/typo/artikel/displayschrift_whimsical_musical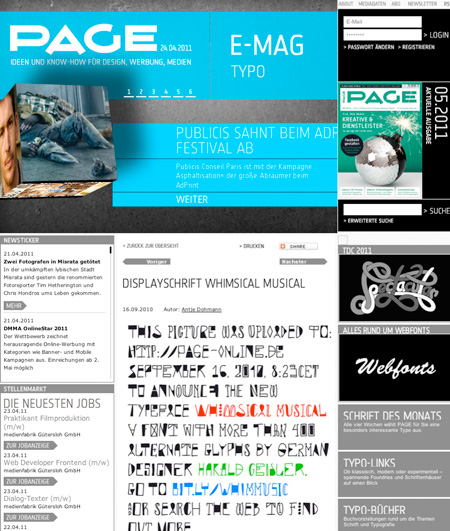 How to purchase and download a font
It is very simple to purchase and download a font.
First Step.
Select a product license that fits your needs. I.e. you like to install and use the font on two computers select "two users" and press the "Add to cart." button. Check the order displayed in your shopping cart. Proceed with the process by pressing the "Proceed to Checkout" button. Follow the instructions to process the payment.
Second Step.
PayPal
After PayPal has processed your payment - which should be done within seconds - a printable receipt along with a unique download link will be presented to you. By pressing that link the font file will be downloaded immediately to your computer and is ready to use. Additionally the unique download link to the font file and a copy of the receipt will be emailed to you automatically.
Wire transfer / cheque:
After the money is transferred a unique download link to the font file along with a copy of the receipt will be emailed to you automatically.
Please make sure to keep that copy along with a copy of the file at a safe place.
If you encounter problems with processing the payment or downloading, please don't hesitate to contact me directly via telephone +49 69 13878688 or use this contact form
here
.
Payments and security
It is possible to pick up and purchase the item directly at my studio in Frankfurt am Main, Germany. Therefore please contact me
here
, or call ahead (+49 69 13878688) to make an appointment.
In most cases the item (physical (i.e. a print) or digital (i.e. a font file) will be purchased through PayPal. PayPal is a service provider for financial transactions. Depending on your country PayPal will offer a variety of payment options like
bank transfer, credit card or EC-Card
. You don't need to sign up for an account at PayPal to use the service.
Security:
PayPal processes your financal Information directly and transfers the payment to my account. PayPal does not share your financial information with me.
Please visit the
PayPal.com
website to find out in detail about their services.
Alternative payment options:
If you wish to wire the money from your bank account - your all set. After the payment is received you will receive a download link to your purchased font or if you ordered a print it will be send to you.
If you are having problems with the payment process please contact me
here
or call (+49 69 13878688).
Returns

Returning tangible goods:
Returns of tangible goods (i.e. prints or plates) must be claimed within 10 days after delivery through email, phone or fax.

Tangible goods must be send back immediately after claiming the return within the original packaging.

Shipping costs will not be refunded. The buyer ships the item at own risk and cost. A refund will be made after the returned item arrives undamaged.

A restocking fee of 25% of the total purchase price applies to returns of all tangible goods.
A reduced restocking fee of 10% of the total purchase price applies to returned offset prints.

Returning intangible goods:
Intangible goods (i.e. font licenses) are not returnable or refundable, for obvious reasons. If your purchase is proven defective and you notify me within 5 days of your purchase, I will either provide a replacement/update to that item or refund your money.


Sales Tax

All prices are shown without sales tax.

Sales tax is not applied to sales if you are located outside the European Union.

Items are sold from Germany.
Only to purchases made within Germany and the European Union an additional sales tax of 7% or 19% will be added to the final bill.
You will see a breakdown of the applied taxes in your cart before checking out.

You have a question that is not answered above?