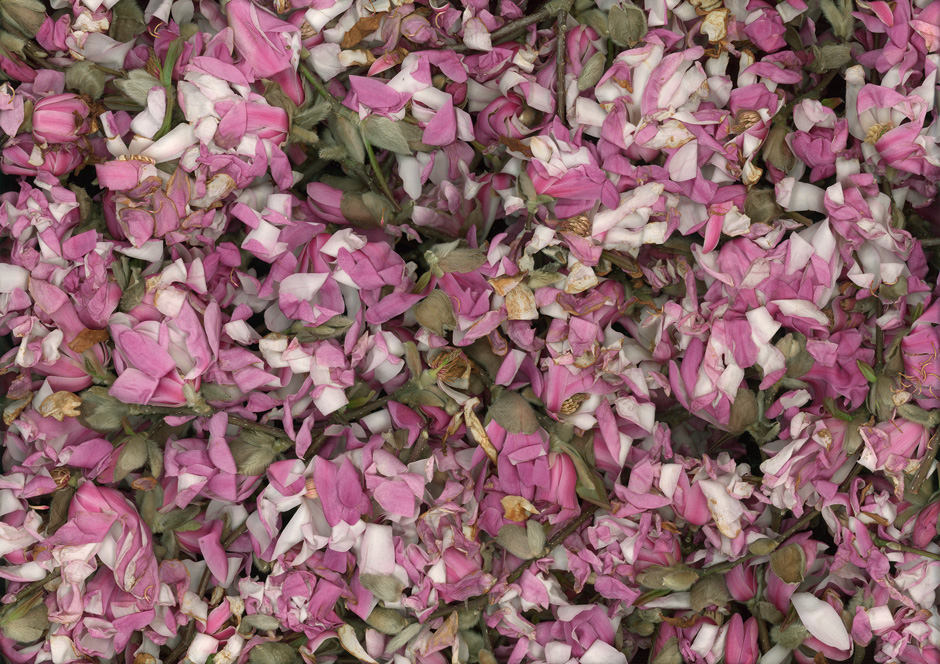 ---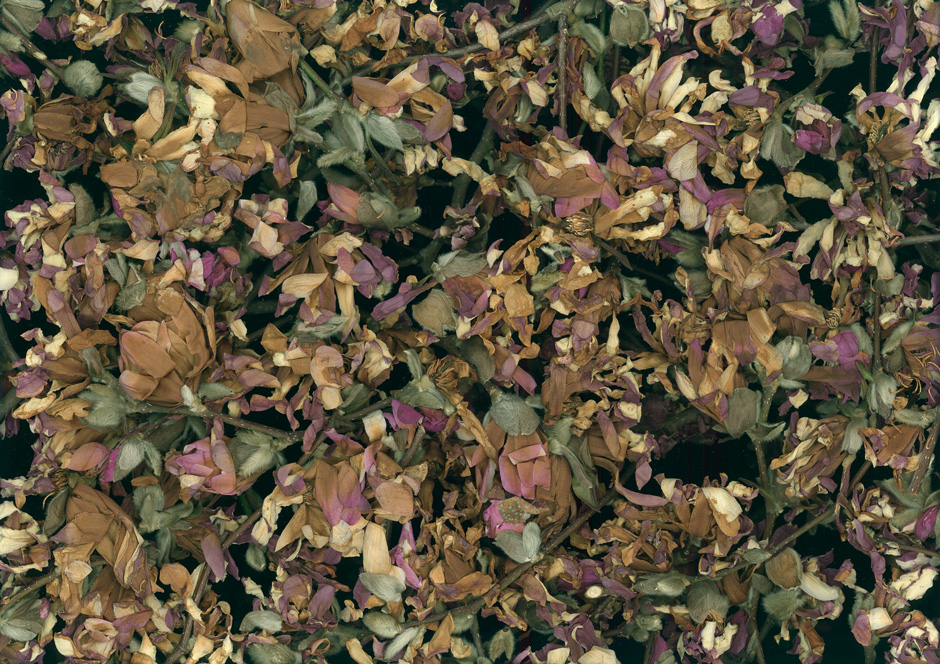 ---
---
I believe it was a Magnolia Liliiflora, it was about 11.5ft / 3,5m and profusely blossoming. My parents used to have this tree in front of their house. At one point, it was decided that the tree had to go because of a gas pipe that was below his roots, and I was asked to do it. I always thought of this tree as precious; once a year, if I visited at the right time, it was a marvelous blooming festival. So I decided to work with it.
I waited until the tree was in full bloom. Right at that high moment, I cut all branches. Immediately everything was transported to my studio, and I started arranging the blossoms and branches you see in the image.
The first image was taken on April 06, 2015, at 08.11 pm, the second on April 11, 2015, at 02.00 pm.
My studio then looked like this: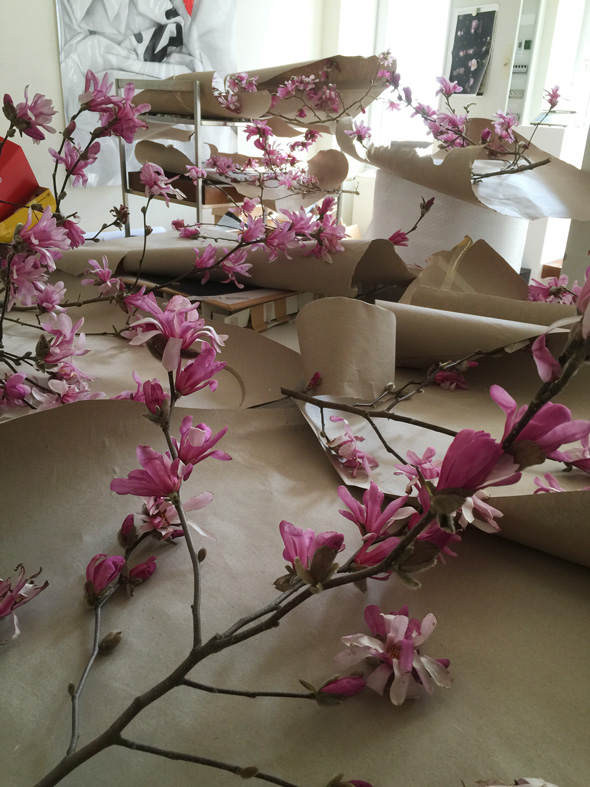 Always something new to discover.
When I do such a composition, I don't pick the most beautiful petals or arrange them in a symbolic order. I aim to create an even distribution of everything with no order, no part of the image has a lot of attention, and no part lacks attention. This has nothing to do with chaos, sometimes, I make hundreds of images until the even distribution appears and I am satisfied with the composition. No blossom is more beautiful than another, there is a sense of equality, and they are not fighting for the eye's attention. So many things happen at the same time, a specific event is not important.
Because there is so much happening simultaneously, there is always something new to discover.
How to navigate an image.
Important for me in this way of composing is: there should be too much to remember. It is a success if it is not possible to remember the composition. Because of that, I can always look again and again at it.
Since the composition has no visible structure, it is difficult to simplify the image. Questions like: "What is in the foreground?" "What is the background?", "What is important?" or "What should I look at exactly?" can not be answered. Instead, everything is important at the same time.
Simplification is important to orient oneself; for example, when one goes down a street, one will not look for the bricks in the walls or count the windows or cobblestones; one will simplify to blocks, house numbers, and crossings to navigate.
Looking at one of the Magnolia images, it will be difficult to navigate, everything seems similar, yet everything is different. None of what one sees fits into a separate drawer, so one constantly sees everything new, and it can not be saved, only looked at again and again.
Before and after.
We see all the details clearly, yet navigating the image is difficult. Looking at both Magnolia images simultaneously, we can use one as a map of the other. It is still impossible to describe the composition's structure, but with both images in front, we can see a before and after.
Recommendation
I recommend hanging the prints beside each other upright rather than landscape, I enjoyed them very much like this. The images have no specific orientation, and there is no wrong way to place them; it has to be interesting and enriching for you to look at.
Specifications:
2 prints, each: 39.3″ x 27.6″ (DIN B1 100 x 70 cm)
Printed on matt, heavy paper
Shipped in a strong protective poster tube
Worldwide shipping included
---
Purchase