Martin Luther King Font Update #25
January 2022
Conversation Piece
Dear reader reader,
You've downloaded the Martin Luther King font. Usually, I send out a monthly update about the progress of the font and a new version for you to download. The month of January brings two events related to Dr. King, first his birthday 15. January (1929), and Martin Luther King Day, celebrated in the US on 17. January 2022. I wanted to share a practical project with the Martin Luther King font to commemorate these two events.


While making handwriting fonts, I ask myself, what can you do with a font like that?
A conversation piece
I like the idea that a person's handwriting can become a portrait of a person. Yet all the handwriting projects are meant to be a door opener to an author's content, not just visual representation.


I find that remembrance is often tied to an image of a person. But, how one's nose looks doesn't say much about a person's legacy. We find the legacy in the content of a person; in the case of Dr. King, it is his actions, speeches, and texts that we remember. And what would be a more appropriate visual form for an author's content than the author's hand?


The "I have a dream" speech is probably the most recited speech of the 20th century and an example of rhetoric mastership. So I thought it would be nice to have the text around me in an everyday setting, for example, when I have a coffee or dinner with friends. I started thinking about a tablecloth, and here you see my first notebook sketches exploring the idea: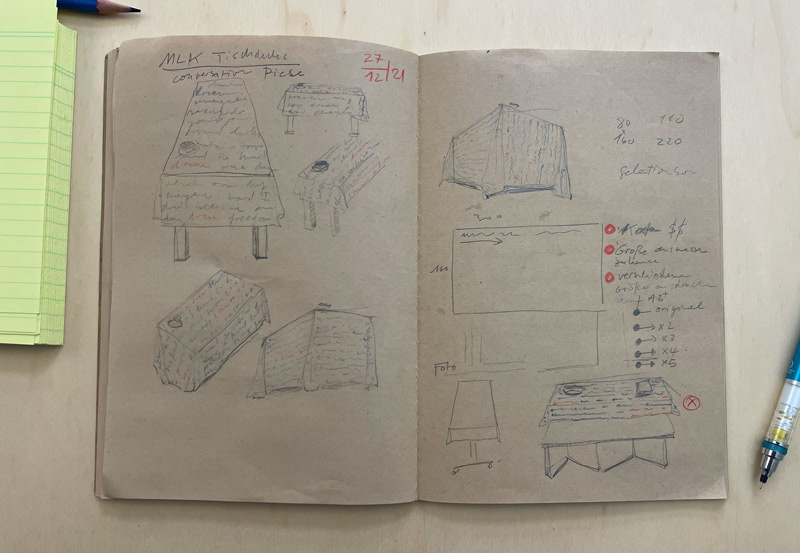 The idea was to print the "I have a dream" speech across the whole tablecloth. The text should break at the end of one side and continue in the following line as if the tablecloth was one big piece of paper. I'd use red to mark the word

dream

as a visual attraction point to interrupt the neat texture of handwriting and get people into reading.


Next, I experimented on paper with different type sizes to feel what would work best for what I had in mind.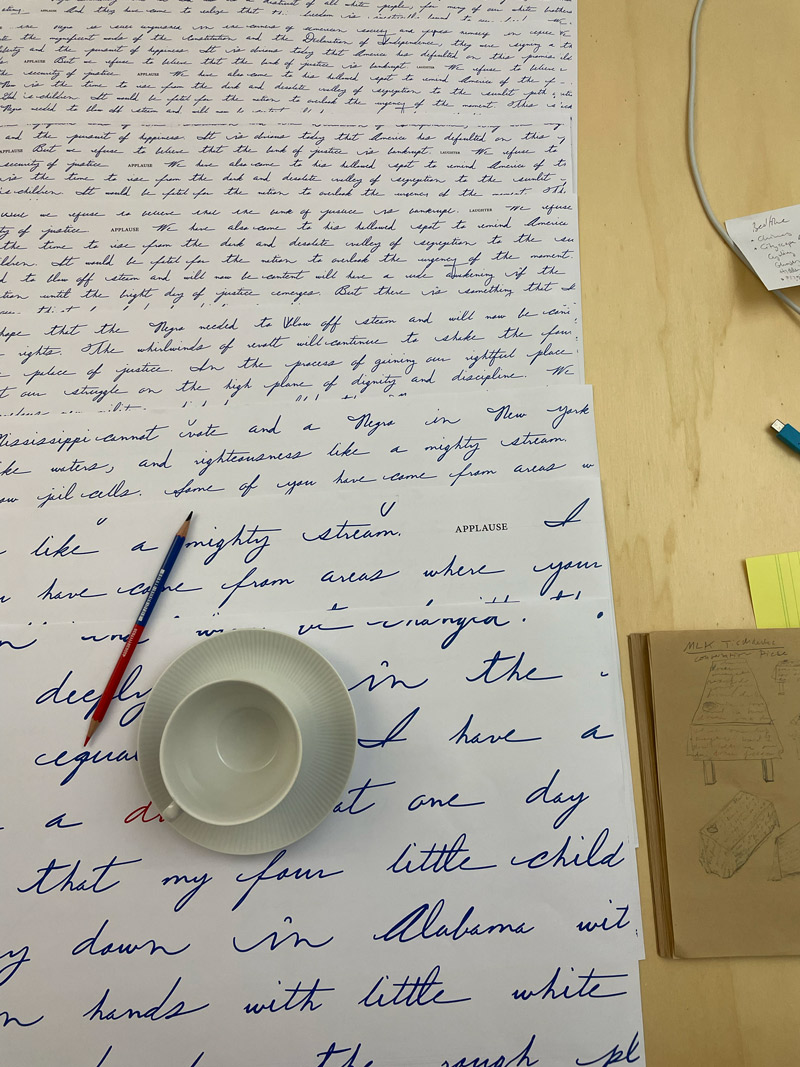 To me, handwriting always happens at a specific size, so I decided to go with a size that would render Dr. King's manuscript accurately for this project.


I would add a picture taken from the speaker's podium at the end of one speech. So we don't see Dr. King speaking; instead, we see his view of the audience.


Here you see the finished result: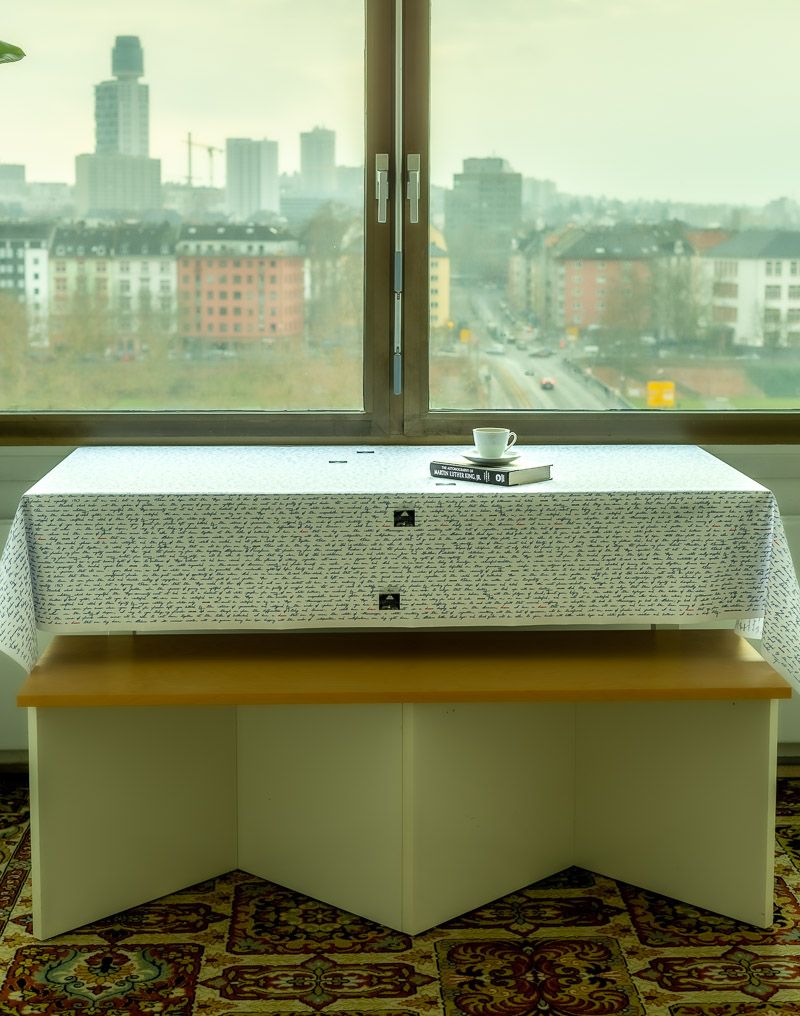 I wasn't sure if the handwriting could be reproduced on the tablecloth in the correct size (in the size Dr. King wrote). I am happy with the result. The fabric can hold the fine detail of handwriting.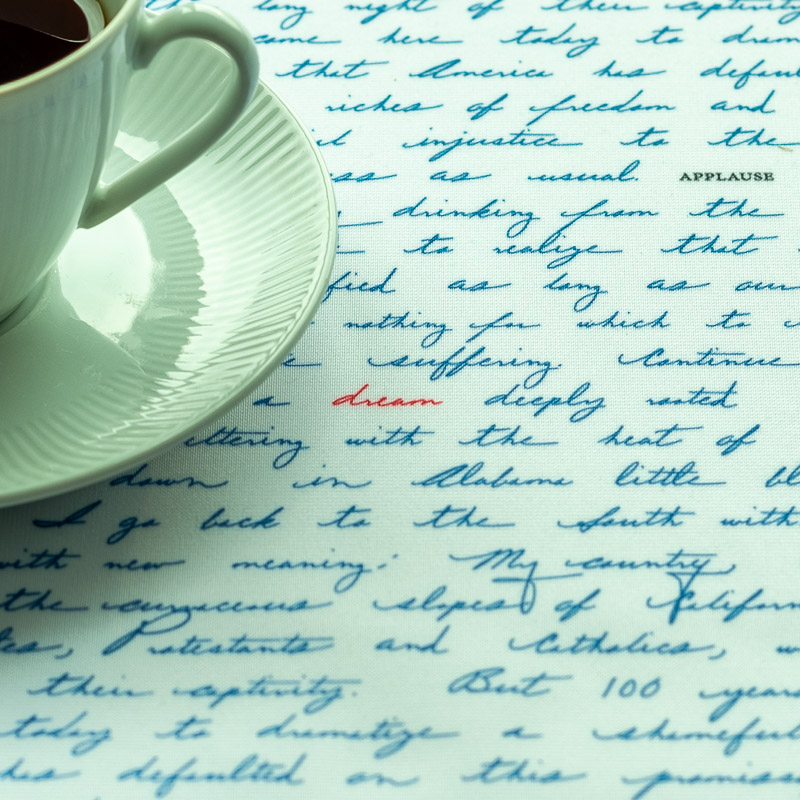 A friend told me that she'd like to have tablecloths like this everywhere. She just came from a meeting, and if she had this, she could have spent the time reading something interesting.


I do not wish boring conversations to anyone, nor do I intend this piece to be an entertaining distraction. My initial thought was that maybe once the content is on the table, it could become part of the conversation. An aesthetic invitation to contemplate the author's content.


In the middle of the table, the reading directions split so that you got something to read no matter on which side of the table you are sitting: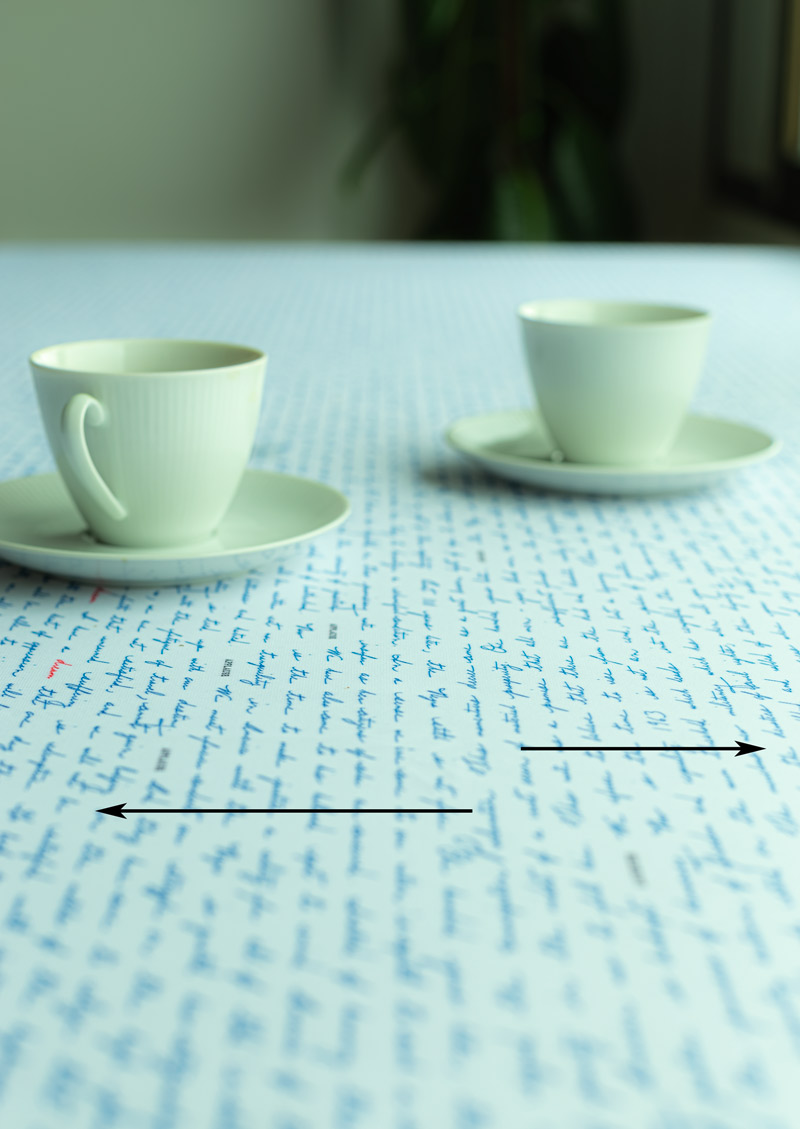 Re-Membering
In the English language, I like the word remember a lot. To me, the word remember suggests that the past can become a member of the present again through an activity. This membership has a different nature than the original experience, but it has a value and influence on the present. Using the Martin Luther King font, one recreates the trace of his moving hand on paper, so we remember Dr. King in a concrete way. One could argue that this way to remember is a rather sensual or unintellectual form of remembrance. However, with and through words, one thinks, or as Niklas Luhman puts it, "without writing, one can not think: at least not in a relatable way." The vital part of remembering is that it is an activity, and the Martin Luther King handwriting font offers you a way to cultivate your thoughts actively.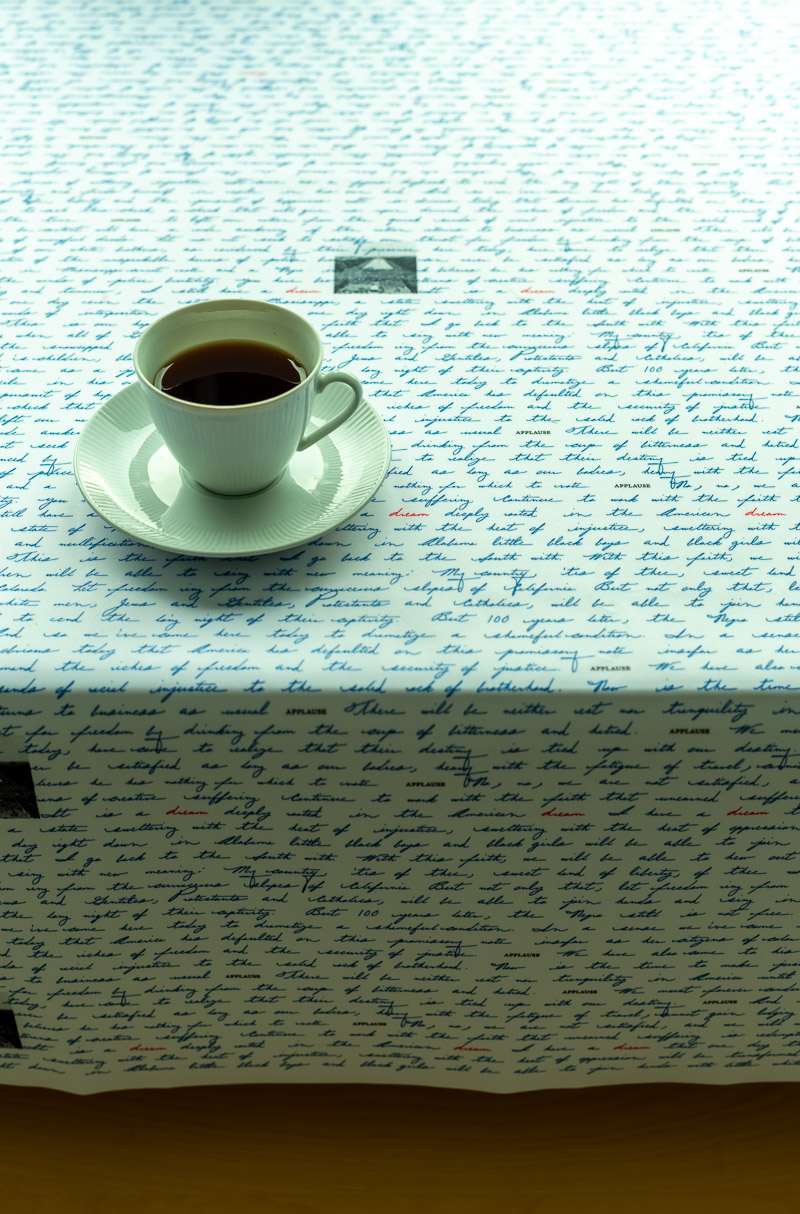 The tablecloth is washable, and I am looking forward to using it in the years to come. I will keep you updated on this attempt to integrate Dr. King's speech into my daily life and all the new ideas it sparks.


Get one for yourself.
If you are interested in making the experiment yourself, you can order a custom-made one. The price is 7€ ($8) per square foot; for example, a 3 x 6 ft table would require a 5 x 8 ft tablecloth and would amount to 280€ ($317). The maximum width is 10ft, but there is no limit to the length. To place an order, donate the amount to the Martin Luther King font, reply to this email with the measurements, and I will ship the custom-made tablecloth to you. It's also possible to make round pieces, but contact me upfront to look into it. Production takes about a week and shipping times from Germany depend on your location and pandemic situation.
A big "Thank you."
to everybody who supported the creation of the font this month. This update is possible because of the financial support of 24 people from around the world. I want to take some space to thank them:
B. Desclee, Brussels 🇧🇪
C. Smith, Nedlands, WA 🇦🇺
D.Chamberlain, Benicia, CA 🇺🇸
F. Chaplais, Ile de France 🇫🇷
F. Engerer, Nürnberg, Bavaria 🇩🇪
G. Sjölin, Örebro 🇸🇪
H. Billetter, Kerpen, North Rhine-Westphalia 🇩🇪
H. de Wolf, Zaandijk 🇳🇱
J. Ford, New York, NY 🇺🇸
J. Harris, Montgomery, Al 🇺🇸
J. Holze, Magdeburg, Saxony-Anhalt 🇩🇪
J. Horton, North Turramurra, NSW 🇦🇺
J. Wilson, Nashville, TN 🇺🇸
K. Engelbrecht, Bern 🇨🇭
K. Tilley, Linthicum Heights, MD 🇺🇸
L. Kaptain, Denver, CO 🇺🇸
N. Renner, New Britain, CT 🇺🇸
N. Wilson, Broken Arrow, OK 🇺🇸
P. Herman, Bonsall, CA 🇺🇸
R. Lindsey, Grand Terrace, CA 🇺🇸
R. Wampler, Colorado Springs, CO 🇺🇸
T. Zwitserlood, Amsterdam, NH 🇳🇱
A. Staples, Shawnee, KS 🇺🇸
B. Provow, Plainsboro, NJ 🇺🇸


A small note! I made a mistake in the last update and only listed 19 people of the 22 supporters. This error was caused by the software I use to process the payments. I am very sorry for the mistake - and thanks again for the support!
How can you support the Martin Luther King font?
This project is very dear to me; I hope you enjoy the font. Without support, this project would not be possible! The more people support the project, the more time I can spend working on the font.


1. Donate regularly to the font.
I will add one additional letter for each 100€ ($110, £90) donated monthly, and sometimes I add some more. reader reader if you want to support: please donate monthly. The continuity will help me and the rhythm of the project. You can find a detailed report on the received donations →here.


2. Spread the word.
Do you have a colleague or friend that might be interested in this? Maybe a high school teacher or student working on Dr. King. Please share this email or link to the project site: https://haraldgeisler.com/martin-luther-king-font with friends, family, and colleagues you think would be interested in the font?
If you have any questions about this project, reply to this email. I am happy to help.


Enjoy the font and stay tuned for more updates,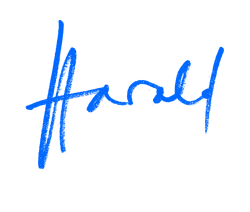 Do you have questions about fonts and how to use them?
I have prepared a → helpful font guide that will guide you through the necessary steps of installing a font on different devices. If your question is not covered in the PDF, reply to this email. I am happy to help.
Lost Password?
Update History:
Update #24

: 9. December 2021.

This update adds three new letterforms, lowercase final-letter y and w, and an isolated letter form a. Further, the altering mechanism in the font is completely updated.
Update #23
: 25. October 2021. This update adds two new letterforms, lowercase final-letter p, and x.
Update #22:
28. August 2021.
This update adds two new letterforms, lowercase inital letter q and an alternative i.
Update #21: 28. August 2021. This update adds two new letterforms lowercase final form d and r.
Update #20: 7. August 2021. This update adds 3 new letterforms,
lowercase initial letters e, g, and u.
Update #19: 30. June 2021. This update adds five new letterforms, lowercase l (version 2), and initial letters a, c, o, and s.


Update #18: 1. June 2021.

This update adds two new letterforms, lowercase o (version 2) and u (version 2).
Update #17: 12. May 2021.
This update adds two new final letterforms, lowercase g and y, and an alternate version of the initial lowercase i. Further, the update fixes (4) the size of the new numbers that shipped with the April Update. And finally, I have added a new PDF to showcase the font.
Update #16: 30. March 2021. Added numbers: 6, 7, 8, 9, 0, 0 (version 2) and semicolon.
Update #15: 28. February 2021: Added Numbers: 1,2,3,4,5
Update #14: 9. January 2021:

Added the letters: ă â à ā ą å ã ć č ç ě ê ė è ē ẽ ḡ î ï ì ī į ĩ ĺ ł ń ň ñ ô ò ő ō õ ŕ ř ś š ţ û ù ű ų ů ũ ŵ ẁ ŷ ỳ ỹ ź ž ż as well as the dollar sign and an alternative comma.
Update #13 Added 29. December 2020: capital letter X, parenthesis left and right (), improvised: Aacute, Adieresis, Eacute, Edieresis, Iacute, Idieresis, Jacute, Oacute, Odieresis, Uacute, Udieresis, Wacute, Wdieresis, Yacute, Ydieresis, aacute, adieresis, eacute, edieresis, edotaccent, iacute, idieresis, jdotless, jacute, oacute, odieresis, uacute, udieresis, wacute, wdieresis, yacute, ydieresis.
Update #12 Added 30. November 2020: initial p and f, and a variation for the lowercase t.
Update #11 Added 29. October 2020: special form I, final-form t
Update #10 Added 28. August 2020: J, initial form y, colon
Update #9 Added 28. July 2020: Q, final form e, Alternative Form U
Update #8 Added 28. June 2020: P, final form n, initial form i
Update #7 Added 28. May 2020: Number: repaired ligature features, U, final form y & s
Update #6 Added 28. April 2020: Numbers: 3, 5, 6, 7, 8 (Numbers are complete)
Update #5 Added 31. March 2020: Capital letters: D — Numbers: 4
Update #4 Added 25. February 2020: Capital letters: I — Numbers: 1, 9
Update #3 Added 25. January 2020: Capital letters: A, R
Update #2 Added 27. December 2019: Capital letters: C, E, O, V — Numbers: 2, 0 — Signs: hyphen
Update #1 Added 27. November 2019: Capital letters: L, K, N, W, S, T, F, B, Y, H — lower-case letter: g — initial lower-case letter: t.init — Signs: Bullet, comma, quote-single (or apostrophe - very important for English), quote-double, quote-double left, quote-double right